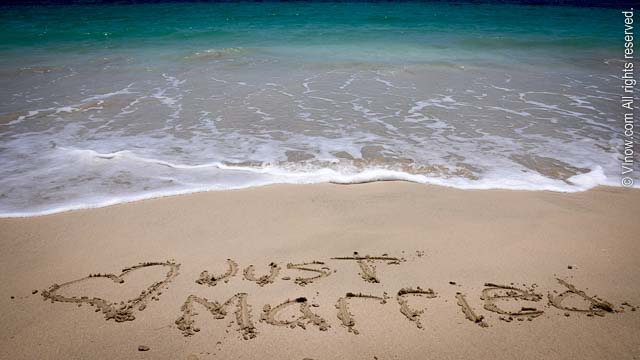 Does your dream wedding take place on a secluded beach? How about at sunset with steel pan music playing? Or perhaps on a sailboat! Whatever your tropical dream wedding entails, it can be arranged on St. John. Ceremonies can be elaborate or simple. Perhaps you'd like to have your wedding at Annaberg Plantation, Hawksnest Beach or a gazebo overlooking the beach. St. John provides a truly amazing location for saying "I do". Spend your honeymoon on St. John in a private villa or be pampered at a resort.

Featured Weddings
Wedding Consultants
A wedding consultant based in the Virgin Islands is your best resource for planning your wedding. Whether the consultant is affiliated with a hotel or is in private business their knowledge of island weddings will make everything so much easier for you. Hotel packages might run anywhere from $550 up to $3000+. Prices depend on the package and can include the basics; a great location and the minister or can include bouquets, cake, photographer, champagne, limo, crystal flutes, videographer and live music.
Private consultants can arrange your wedding basically anywhere you choose but often will suggest the areas that are best suited for such an event. Packages can be basic to elaborate with prices around $300 and up. A consultant can take care of everything for you; processing the license, getting a great photographer, flowers, cake, caterers, transportation and if necessary even witnesses! They will insure that your day is extra special, just the way it should be!
The Virgin Islands are perfect for anniversaries and renewing vows! Consultants can plan these events as well and make it extra special for just the two of you or for the whole family. Contact a local wedding consultant and start planning your island dream wedding or vow renewal.