St. Thomas: Boat Rentals
Rent a boat, power or sail, and plan your own itinerary; stop at a few snorkeling spots, have a nice picnic on a deserted beach or a fun family trip to a neighboring island. Boats include; 25-28' Makos, 25' Boston Whalers, 26' Prowler Catamarans, 24' Island Daysailers, among others. Rentals are usually equipped with iceboxes, so you can travel with food and drinks. Boat rental operators will advise you of good locations to visit and provide you with maps and directions. They prefer you have some experience with navigating a boat and some require knowledge of local waters. Captains are available if necessary for an extra fee, usually around $80 for ½ day and $115 for a full day. Prices range from around $280-$650 for ½ day rentals and $385-$700 for a full day, in addition to fuel consumed. Prices vary based on type and size of boat. Visit our featured boat rentals!
National Geographic Trails Illustrated St. John Map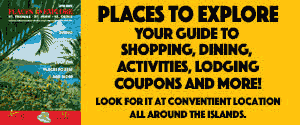 Virgin Islands Newsletter Signup
Sign up now for our FREE Virgin Islands Now Newsletter and we will email you regular updates on what's happening in the Virgin Islands & on VInow.com. You can unsubscribe at any time. Simply fill in the form below.
×