St. Thomas Activities: Learn to Sail
The waters around St. Thomas are beautiful, the weather fabulous, the trade winds perfect - perfect for sailing! And not just any sailing, YOU sailing. That's right, while visiting St. Thomas you can take sailing classes that give you the know how to sail a 20 foot sailboat and larger boats with more advanced classes. You can even do an excursion where you actively participate on a racing yacht as you and your team head toward a finish line - sounds exhilarating doesn't it?
Fair Wind Sailing School
×
Desiring Paradise
If you've ever considered moving to the USVI, or if you know someone that wants to, this book is for you. Desiring Paradise is a true story about two New Englanders who followed their dream. Experience the island from a different perspective - as newcomers trying to survive their first year in Paradise. It's guaranteed to raise your eyebrows.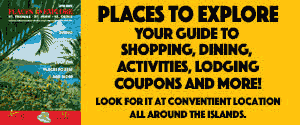 Virgin Islands Newsletter Signup
Sign up now for our FREE Virgin Islands Now Newsletter and we will email you regular updates on what's happening in the Virgin Islands & on VInow.com. You can unsubscribe at any time. Simply fill in the form below.
×