Attractions on St. Thomas, Virgin Islands
Your vacation is booked and now you are wondering about sightseeing and what to do in St. Thomas? You can explore some of the parks and reserves by taking a nature hike, or on a kayak excursion. How about zip lining in St. Thomas? You can learn about fascinating marine animals at Coral World. There is the butterfly garden, tramway to Paradise Point, and the Botanical Gardens. Beautiful vistas are plentiful and an island drive makes seeing them easy. Head to the hills on St. Thomas island for a stop at Mountain Top; or down towards the sea to the capital of the U.S. Virgin Islands, Charlotte Amalie. Charlotte Amalie is filled with history -- old churches, historic houses, watch towers and a fort! It is also home to the winter wonderland, Magic Ice. Visit popular areas like Frenchtown and Red Hook for a lunch break, or a stroll. What are you going to see on your St. Thomas vacation?
Featured Attractions
Other Attractions Around St. Thomas
St. Thomas U.S. Virgin Islands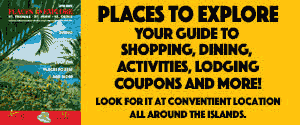 Virgin Islands Newsletter Signup
Sign up now for our FREE Virgin Islands Now Newsletter and we will email you regular updates on what's happening in the Virgin Islands & on VInow.com. You can unsubscribe at any time. Simply fill in the form below.
×