Historic Sites in Charlotte Amalie (Kongen's Quarter)
Historic Sites
Charlotte Amalie beckons you to stroll along her cobble stone alleyways, climb her streets of steps, admire antique West Indian furnishings in historic homes and explore 17th century Danish fortifications. Founded in 1681 by Danish settlers, it contains a wealth of buildings that provide a glimpse into colonial life. It is listed in the National Registry of Historic Places as an area of particular historic interest. Often referred to as Downtown or just Town, Charlotte Amalie today is a bustling center for government, schools, offices, shopping and residences! Visit old and new Charlotte Amalie; see the evolution from a colonial trading post to one of the busiest duty free ports in the Caribbean! Here is a selection of sites you might visit.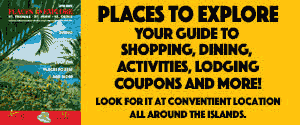 Virgin Islands Newsletter Signup
Sign up now for our FREE Virgin Islands Now Newsletter and we will email you regular updates on what's happening in the Virgin Islands & on VInow.com. You can unsubscribe at any time. Simply fill in the form below.
×