Map of St. Thomas, USVI
Use the controls on the left side of the map to zoom and pan around this interactive map of St. Thomas.
Charlotte Amalie
Red Hook
Virgin Islands Maps & Atlas
Don't worry about getting lost while driving around St. Thomas, pick up a map or atlas! Plan your driving routes, activities and get a lay of the land.
National Geographic Trails Illustrated St. John Map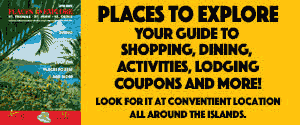 Virgin Islands Newsletter Signup
Sign up now for our FREE Virgin Islands Now Newsletter and we will email you regular updates on what's happening in the Virgin Islands & on VInow.com. You can unsubscribe at any time. Simply fill in the form below.
×