Getting Married on St. Thomas, Virgin Islands
A wedding on St. Thomas will be a magical beginning to your new life as husband and wife, or celebrate your anniversary with a vow renewal. Wedding planners are great resources, their knowledge of the island and weddings will make everything much easier for you. They can plan everything from simple to elaborate. You can also research your options and get in touch with wedding photographers, ministers, transportation providers, bakers, florists that are available and make arrangements on your own. If St. Thomas is going to be your wedding and honeymoon destination you'll want to consider the wedding/honeymoon packages some resorts on island offer!
Marriage license information for the Virgin Islands is provided in the table below. In most cases wedding planners will assist with the marriage license application process.
Marriage License Application
The marriage license application fee is $200 ($100 for application fee and $100 for the license). There is an 8 day waiting and processing period, which can be waived depending on circumstances. The application is good for 1 year. Court marriages in front of a judge are performed on weekdays by appointment and will cost around $200. Religious ceremonies should be arranged directly with church officials. If either party has been divorced, a certified copy of the divorce decree must be presented. If you are requesting a marriage license through the mail, without the help of a local wedding planner you will have to pick up the license yourself on arrival. This can only be done of regular business days.
St. Thomas / St. John
Superior Court of the Virgin Islands
P.O. Box 70
St. Thomas, USVI 00804
Telephone: (340)774-6680
St. John Feet Fins 4 Wheel Drive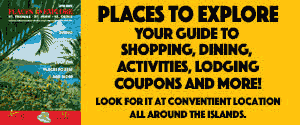 Virgin Islands Newsletter Signup
Sign up now for our FREE Virgin Islands Now Newsletter and we will email you regular updates on what's happening in the Virgin Islands & on VInow.com. You can unsubscribe at any time. Simply fill in the form below.
×