Water Island Beach Guide
Honeymoon Beach
Honeymoon Beach is a pretty, white sand beach. The shore is lined with palm trees. Small palm frond umbrella huts offer shade and there is a shed on the beach. The beach is typically surf free and deepens gradually so is perfect for small children. The crystal clear water is inviting and offers fair snorkeling. The beach is usually sparsely populated on weekdays except for a couple hours in the afternoon when a boat charter stops in. It is a favorite for residents on weekends, particularly on Sundays.(Directions from Ferry Dock) Read More
Sprat Bay
Coconut trees line the area around Sprat Bay giving it a very tropical, uninhabited feel. Rarely populated, the bay is calm with an occasional surf. The beach has soft white sand with some rockier areas toward the end of the bay. No amenities are available on the beach so it is necessary to bring drinks and snacks with you. Read More
Limestone Beach
Limestone Beach is a long shallow beach. Rocky in several areas, it is good for exploring and is usually unpopulated. You can walk out from the beach to a reef for fair snorkeling. Behind the reef the water deepens quickly and currents are strong. Tide pools often form around the rocks in the center of the beach; wading through them can be interesting. You might spot a whelk, starfish or small fish. You can also walk & explore along the shoreline. Dive shoes are recommended for walking around tide pools. Swim with caution. (Directions from Ferry Dock) Read More
Beach Information and Tips
All beaches on Water Island are open to the public, beyond the sand and tree line however is often private property and should be respected as such.
There are no clothing optional beaches in Water Island; public nudity is illegal.
Removing shells from beaches on Water Island is illegal.
Don't feed marine life or sea birds. Food not naturally in their diet, like various human foods, can create health problems for these animals.
Protect yourself from the sun. Wear sunblock, a hat and sunglasses.
Sun, rum and fun can spell dehydration, drink plenty of water.
Desiring Paradise
If you've ever considered moving to the USVI, or if you know someone that wants to, this book is for you. Desiring Paradise is a true story about two New Englanders who followed their dream. Experience the island from a different perspective - as newcomers trying to survive their first year in Paradise. It's guaranteed to raise your eyebrows.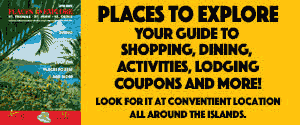 Virgin Islands Newsletter Signup
Sign up now for our FREE Virgin Islands Now Newsletter and we will email you regular updates on what's happening in the Virgin Islands & on VInow.com. You can unsubscribe at any time. Simply fill in the form below.
×