Virgin Islands Travel Forum
Cruzan Rum
Can anyone tell me where the best (least expensive) place is to buy rum on St. Thomas and St. John (approx 15 bottles). Also, does anyone know if it's possible to order on-line and have shipped to some place local, like the Westin? Thanks!


Cost U less, Kmart, Plaza Xtra


You could call Mixology on St. John @ 340 714-5985. With an order that size they might very well deliver it for you to the Westin.

Prices change all the time. But I can tell you that I didn't find Cruzan Rum any cheaper anywhere on St. Thomas than I did at Mixology back in January.


I've always heard that Cost-U-Less has the lowest markup on alcohol. Something like 1.5% over cost. I think the flavored rums and the basic light and dark (1 liter) are on sale for about $5.50. Their 120 and 151 rums are a little cheaper I think.


My husband & I were in St. Thomas last week and purchased light & dark Rum for $4.99 & the flavored Cruzan Rum for $5.99 a bottle at KMart in the Tutu Mall.


I'll echo RNK's message...prices always vary, on all three islands. I'd go for the most convenient location. How much of a difference would $1 make versus the convenience of the location? AH Riise, IMHO, would be the most convenient location on STT, and Mixology on STJ.


Can anyone tell me where the most affordable place to rent a car in STJ is?


Thanks for these great suggestions!


Kelly,

Basically all the car rentals in St. John offer equivalent size cars for the same price. I always rent thru Conrad Sutton for no other reason that you can leave your rental in their lot when in Cruz Bay (parking spots are rare), and I like the challenge sometimes presented when dealing with the Suttons. If you are visiting in the summer or fall, Sutton is offering a 5% discount if you reserve thru their website (www.conradcars.com).

Your other option is to rent the car in St. Thomas and take the car ferry over. It is a cheaper alternative. However the down side is the very limited supply of 4-wheel drive rentals (which many, including me, view as a requirement to navigate some of the roads in St. John). Also, if you have any trouble with the rental you may find yourself waiting a long time for assistance.


Richard,

Thanks for the info on the car rental I will check into that.


Sorry, only registered users may post in this forum.
St. John Feet Fins 4 Wheel Drive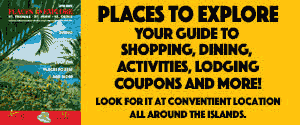 Virgin Islands Newsletter Signup
Sign up now for our FREE Virgin Islands Now Newsletter and we will email you regular updates on what's happening in the Virgin Islands & on VInow.com. You can unsubscribe at any time. Simply fill in the form below.
×