Virgin Islands Travel Forum
St Thomas/St John Ferry
*1)We'll be arriving via cruise ship. Where is the closest place to catch the ferry over to St. John's? 2)Is it within walking distance from the ship dock? 3) Once at St. John are there taxis available to transport to AND from Trunk Bay that run all day long? 4)Are there restroom facilities at Trunk Bay? Thank you.


Ferry to St. John docks in the same harbor as the cruise ships, but I believe the ferries are on the opposite side of the harbor.
Not sure about the walking distance as we came in on a ship's tender at the ferry dock.
Yes, there are taxis and "safari trucks" at the St. John ferry dock to take you to and from Trunk Bay as desired. Just check with the driver about their schedule.
Yes, there are restrooms at Trunk Bay.
Fred


Sorry, only registered users may post in this forum.
St. John Feet Fins 4 Wheel Drive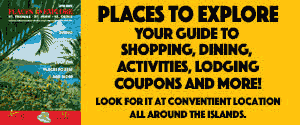 Virgin Islands Newsletter Signup
Sign up now for our FREE Virgin Islands Now Newsletter and we will email you regular updates on what's happening in the Virgin Islands & on VInow.com. You can unsubscribe at any time. Simply fill in the form below.
×