Virgin Islands Travel Forum
Colony Cove Condos
We may be looking a a residence at Colony Cove. Anyone have any ideas why there are so many units for sale ? We saw this complex a few years ago - didn't look bad to us. Is it run down now?? Thanks for any input!


I don't know anything specifically but be sure to check on monthly management fees and insurance.


The only things I can figure out are that because since at least early 2003 there have been over 25 units for sale at Colony Cove people have concerns, just as you do so they avoid purchasing a unit at Colony Cove.

Other buyers might be concerned about the location and Colony Cove's close proximity to a housing block.

Take a look for yourself and make up your mind. If you like the location close to Christiansted, then you certainly have lots of units to choose from at Colony Cove.

Jim


While there may be reasons that I am not aware of, The major recent change is a rather large increase in monthly condo, and insurance fees. (someone said over $11,000 per year) This has motivated many long time owners to put their units on the market.

The other reasons sometimes given for the low prices and numerous listings are the occasional government sewage spill just off of the beach and the proximity to "public housing projects".


Vicki,
As a long time owner of a unit at Colony Cove, the reason for the large number of units for sale is that for years the CC Association was corrupt and insular. They all had units, and as they were being exposed, they all sold. Now, with a new association team the complex is on the rise. It may take a while to get to its former splendor, but it will happen.
As said above, the property insurance is quite steep, but I'm told that because there has been no recent damage due to storms the rate will come down in the near future. Incidentally, 14 units have been sold in the last year. The management fee, by the way, is quite reasonable.


Vicki,

We took a good look at the condos at Colony Cove. They were nice units overall but the monthly fees were one of the reasons we did not purchase there.

Stay there and enjoy it. If you love it and will live there or spend a lot of time there then go for it.

One of the problems I see with STX is airfare situation. There are few direct flights and it's cost prohibitive for many. We did purchase a condo hoping to stay six months a year and rent at least a few additional weeks when we're gone in addition to having a place for family. In a few years we will be living that dream but presently we are going to live in Egypt.

Sharon


Hey Guys--- Thanks for all the input. You have certainly given us many things to think about. i just love this board!! Ya all have a great day!!

Vicki


Sorry, only registered users may post in this forum.
St. John Feet Fins 4 Wheel Drive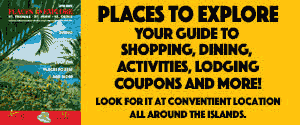 Virgin Islands Newsletter Signup
Sign up now for our FREE Virgin Islands Now Newsletter and we will email you regular updates on what's happening in the Virgin Islands & on VInow.com. You can unsubscribe at any time. Simply fill in the form below.
×