Virgin Islands Travel Forum
Quilt shops
I am going to be in St. Thomas on April 9th. I am a quilter and am wondering if there are any quilt or fabric stores on the island. Your help is greatly appreciated. Diana


Dana,
There are several very nice fabric shops here. They don't have the stateside variety in heavy fabrics but have tropical weights, perfect for quilting, in numerous styles. Let me know before you get here and I will send you a list of them with directions ...
Pamela


I too am traveling to the US Virgin Islands. I'll be at St. Thomas and St. Crouix. I would really appriciate any information regading shops with Quilting Fabric. I'll be in the US. Virgin islands in February. Thanks, Pat


I will also be in St. Thomas- in July- and would love to find some fabrics. Any advice would be appreciated.


There was a fabric shop in Mongoose junction over on StJohn. Don't rembmer the name of the shop, but they had some beautiful stuff!


Well, I am successfully avoiding work this afternoon so here we go ... St. John: the place in Mongoose is The Fabric Mill . They have a great selection of tropical weight cottons with tropical prints. Seem a bit pricy to me for clothing but in small amounts of color and print for quilts would not probably break the bank.

St. Thomas - Fabric in Motion - sort of like the old time fabirc stores before places like Cloth World sprang up. Good selection of cotton, linen and tropical weight wools. Special "party" fabrics. I don't go into sticker shock here. Downtown.
The Fabric Store - similar to above. Downtown
Lone Eagle in Smith Bay is where I buy most of my stuff. It's down near Coki Point. Again - no sticker shock here.

Don't know a thing about St. croix, sorry.

Pamela



Does anyone know of any place that sells beads in St. Thomas or St. Marten? I will be there the last of February.


On St Thomas in the Royal Dane Mall is a store called "Laska" and they have a large selection of beads. They also give beading classes at the Reef should you be interested. Ask for Stacy.
Good luck.


Could you please email me the list of Quilting Shops?

Thank you.


Diana,
The list above of fabrics shops is all I could find. What information do you need? Telephone #'s?
Pamela


Sorry, only registered users may post in this forum.
St. John Feet Fins 4 Wheel Drive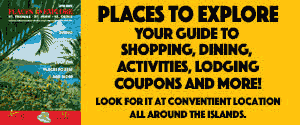 Virgin Islands Newsletter Signup
Sign up now for our FREE Virgin Islands Now Newsletter and we will email you regular updates on what's happening in the Virgin Islands & on VInow.com. You can unsubscribe at any time. Simply fill in the form below.
×