Virgin Islands Travel Forum
Water temperature
*What is the water temperature in January and February in Saint Thomas?


Seasonally temperatures are not as apparent in the Virgin Islands as they are in other locations. The temperature here ranges from 77 degrees Fahrenheit to 85 degrees. In late spring and summer months the temperature is in the mid and high 80s. Rainiest months in the Virgin Islands are August through October. *(Temperatures provided below are in degrees Fahrenheit.)

For average temps in jan, feb, it is around 79-81 degrees.

--Islander


Sorry, only registered users may post in this forum.
St. John Feet Fins 4 Wheel Drive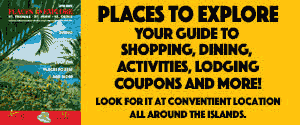 Virgin Islands Newsletter Signup
Sign up now for our FREE Virgin Islands Now Newsletter and we will email you regular updates on what's happening in the Virgin Islands & on VInow.com. You can unsubscribe at any time. Simply fill in the form below.
×