Virgin Islands Travel Forum
Courtyard Restaurant-Inn at Tamarind Court?
Has anyone eaten at this restaurant? It rarely seems to get mentioned. It looks like they serve breakfast and a different themed dinner every night except for Saturdays. Is it buffet style? Resonable prices? Might have to give this one a try with the kids.


It's different themed because it's different peopled. A different chef rent the kitchen every night so it's hard for one to give a review. They change often as well. I had sushi on one sushi night couple of years ago and it was okay. Don't know if the same guy is doing it still.

RL


I've eaten breakfast there a few times and the food was good, prices reasonable and atmosphere pleasant.


We had dinner there on Cajun night (Thu); I thought it was very good, but the chef who worked there then has since returned to New Orleans (I hope he and his wife are okay!) I really liked the atmoshpere - very casual and friendly. You can't beat the location! We're planning to stay there a couple of night in July. Can't wait!



Edited 1 time(s). Last edit at 10/08/2005 01:38AM by ccasebolt.


Greek night (Monday) is one of my favorites on island. Full dinner at Greek (salad, entree and dessert for $20! great bargain for the island) They just started Thai night on Tuesday. Only been once, but was very pleased with dinner.

The folks that did Cajun moved off island. Not sure if someone else plans to pick it up.


I agree with Matt, Greek night at the Tamarind is one of our favorites also.


Going to Tamarind is one of my favorite places to sample, depending on what kind of food you prefer, but...make sure you arrive as early as you can. I have been there an hour after things got going and didn't eat until 2 hours later. I think it was sushi night. The concept of trying other chefs is wonderful, but sometimes the restaurant is not prepared for the influx of people. Enjoy!


What other themes do they have? Not sure my kids would enjoy Thai,Greek, or Sushi, but I've always wanted to try it. That might be a good night to leave the kids at the house with a pizza.


Sorry, only registered users may post in this forum.
St. John Feet Fins 4 Wheel Drive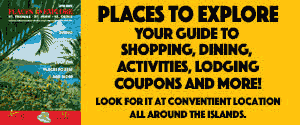 Virgin Islands Newsletter Signup
Sign up now for our FREE Virgin Islands Now Newsletter and we will email you regular updates on what's happening in the Virgin Islands & on VInow.com. You can unsubscribe at any time. Simply fill in the form below.
×