Virgin Islands Travel Forum
New Years Eve on St. Thomas
Any suggestions on where to go for dinner and a good party to ring in the New Year on St Thomas?


(I changed the topic, because that is what it is called here!) Well, I am sure there will be many places to celebrate. One interesting one would be the dropping of the fish pot in Frenchtown with the party that goes on there. It will be a community celebration, but there are lots of bars and restaurants in the area also. If you are young, you might enjoy whatever tha Buddah Bar is planning. If you are chi-chi, perhaps Havana Blue. The Ritz will probably have fireworks. If you are looking for quiet and sophisticated, I would look into the Old Stone Farmhouse. Red Hook is always good for some fun.

Keep in mind that the next day (January 1) is the inauguration of a new governor, and there will be lots of parties then!!


Thanks! Any suggestions are always welcome!
We are so excited!


We will be visiting St Thomas on Years Day. We are a few family members, and some friends. Do any hotels offer a day pass to use the facilities, or are the restaurants and beach bars open to the public. We are looking for something close to Charlotte Amalie. Any information would be appreciated.
Merry Christmas and Happy New Year!!
Carolyn Gale


Carolyn:

I'm not sure what you mean by a guest pass, but the hotels & resorts do allow you to eat & drink on their properties. We've never had a problem.

Also, the beaches are free. You can pretty much swim where you want.

And you're on a small island so you don't need to stay close to town.

F.I.


A new governor is going to be inaugurated January 1, so there will be more activity than normal around town. Are you visiting on a cruise ship? If you are coming into Havensight, the closest beach is Morning Star at Marriott's Frenchman's Reef. You can easily take a taxi, rent a chair, etc. There is a nice beach bar/restaurant called Coco Joe's. Have fun!


Sorry, only registered users may post in this forum.
St. John Feet Fins 4 Wheel Drive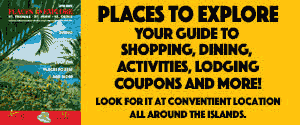 Virgin Islands Newsletter Signup
Sign up now for our FREE Virgin Islands Now Newsletter and we will email you regular updates on what's happening in the Virgin Islands & on VInow.com. You can unsubscribe at any time. Simply fill in the form below.
×