Virgin Islands Travel Forum
Ferry from st thomas to st john, cost?
I know this has prop been asked 100 times, but I have never seen it posted...

How much does it cost per person to take the ferry over to st john from st thoms????

Trying to get an idea for cost- as my wedding is on st john, but the guests are staying in st thomas!


if you go up to the top of the page there's a link that goes over the costs and the time tables for the ferries.There are two types of ferries. You have the car ferry which goes out of redhook with a cost of $50 roundtrip. Then you have the passenger ferries which go out of redhook and charlotte amalie. The passenger ferry out of redhook is $5 and out of amalie it is $10 because it is much further away from st. john.Hope this helps and just remember the link at the top of this page "ferry schedules" which is right next to the "cruise ship schedule".


I know this has been asked, but I havn't seen the answer yet....
Is there a time limit on the latter half of a round trip car ferry fare?
Is it strictly for same-day usage?


from what i have read, there is no expiration date on the round trip, but there are different companies that run the ferries and they do NOT honor each others tickets. Just buy the one way, it is a little more, but you wont have to wait for a particular company 's boat to arrive.


Thanks!
You're right. It's not worth the extra money to have to wait for a particular barge!


Sorry, only registered users may post in this forum.
St. John Feet Fins 4 Wheel Drive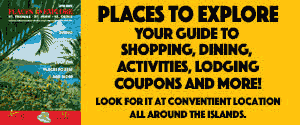 Virgin Islands Newsletter Signup
Sign up now for our FREE Virgin Islands Now Newsletter and we will email you regular updates on what's happening in the Virgin Islands & on VInow.com. You can unsubscribe at any time. Simply fill in the form below.
×