Virgin Islands Travel Forum
Crime on ST. Thomas - our experience
The reason we wrote our previous ST. Thomas travel review was to try & help other people like ourselves that may have many questions about visiting or staying on the island. Over the last year we asked many questions that were important for our planning. Thank you to all you that took the time to commutate with us. Now we are trying to return the favor.

Crime & Safety:

This is a very important issue we left out of our island review. For what it is worth here is our experience:

Before arriving we were told that the Virgin Islands have always had serious crime & corruption problems. We were told last year St. Thomas had its worst year for homicides ever. We were told do not even think of going to ST. Croix. Quite frankly we were very concerned what we would find.

Our experience for the last two months was as long as you exercise good judgment & be aware of your surroundings you should be OK. That being said: At no time while staying on ST. Thomas did we ever feel threatened. We felt totally safe while staying in the Bologna Bay Beach Resort area.

Almost every island person black or white that we came in contact was very friendly & helpful! We had a great island experience!!!

The Spangler's


Thinking of honeymoon at Ritz in st. Thomas. I have received so many conflicting stories about, unfriendliness, crime etc that I am thoroughly confused. Please help me with some candid information. I have heard the Ritz there is great and would like to go if possible, but concerned about st Thomas.

Thanks!

Tripod


With that said, I have been to stx a few times. I didnt experience any crime, nor did I feel unsafe.
Of course I won't go to places that I knew was unsafe.
I think people made a big thing out of what could happen.


Never felt unsafe on STT but was robbed of snorkeling gear on STJ while napping on my beach blanket...I live in NYC and my admonition wold be to be as careful as you are at home and do not venture into questionable neighborhoods at night.


we live in STT. we also have condos here also, just as do many like us. So we get the question about how save is it here from prospective renters. We we have been comming down to the island since 1985. We bought two condos on sapphire beach. The we bought a home right above sapphire beach. The first response says it all. In the resorts, town or resturants it is very safe. If you are out at 1 am on back street you should not be there.

come and enjoy the islands and the people. Just think, just as you would do any other place you go.

bild


We have owned at Ritz Carlton Club St. Thomas for 4 years now and have never once felt unsafe. It is a beautiful resort and is professionally maintained for the security, comfort and enjoyment of the hotel guest/club member. Women, in MHO shouldn't be out alone at night nor should kids, ANYWHERE. According to my adult daughters I'm "uptight" but I like to think I'm smart and cautious, so far so good. Don't let your guard down just because you are away from home, use common sense. Ritz Carlton is a wonderful place to vacation, and by the way on the Travel Channel last night it was rated #5 out of 10 for Caribbean Beach destinations, not bad. Enjoy and congratulations...........


I haven't locked my door in over 8 years (the first two years I locked it out of habit)...crime happens, but not usually to the innocent...don't worry about it...if you are the type of person to go looking for crack at 3 in the morning, yeah, yer gonna have problems here...but, if you are a regular working-type, I wouldn't even be concerned...I'm not and I've been here over ten years...from Detroit.

~Marty on STT

Having lived some time during the 80's on St. Thomas I guess the best advice I can give, and that already hasn't been said is don't go where you don't belong, especially when you don't belong there.

Visitors come to the islands and believe because it is tropical and warm that it some paradise where nothing occurs including crime. Every town, neighborhood etc has it's bad parts and you learn to stay away from those areas. If it appears unsafe, it probably is.

Scott


Lots of Friendly People

Always felt safe

Nothing good happens after Midnight!


The minister at the church I attended when I was a teen used to say that if you were out after midnight you were on the devil's time.


For those who are thinking this place is some kind of gang-infested crazy place, relax! I'm a single female from NH living right in downtown Charlotte Amalie and feel perfectly safe along the waterfront and in the more traveled areas. After 10pm I'd probably stick with taxis rather than walking, but for the most part I'm just smart and careful and have no problems whatsoever. As a few have mentioned above, think of any major city, (or any tropical island with a city for that matter). Some areas are better than others. When you arrive here, just ask where to go and not to, and the locals are always happy to help you. Same goes for St Croix. Those poor people get such a bad rap. I lived in Christiansted on a boat for a while and never saw even the slightest bit of trouble. So quit worryin' and just get yourselves down here and have some fun!!!
There is crime everywhere, even in Paradise. At home must of us use common sense and don't put ourselves in a position where we become victims. The sad fact of the matter is that many tourists leave their common sense back home when they are on vacation. Don't be insulted. How many of us do things while we're on vacation that we don't do at home? We have never had a problem with any crime (except having our credit card numbers lifted a few times) when we're in the Virgin Islands. We don't feel uncomfortable with the locals (tourists are a different story) but we are still always aware of our surroundings and what is going on. We don't put ourselves in a position where we might be at risk and we don't spend our time drinking so much that we don't know what is going on. I'm sure each and everyone of us have places at home where we wouldn't go because of the crime. It is the same everywhere in the world. If you go looking for drugs or trouble than you are on your own regardless of where you are. The Virgin Islands feels like home to us only a lot warmer!


Sorry, only registered users may post in this forum.
St. John Feet Fins 4 Wheel Drive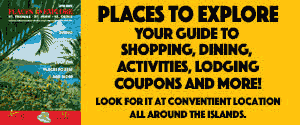 Virgin Islands Newsletter Signup
Sign up now for our FREE Virgin Islands Now Newsletter and we will email you regular updates on what's happening in the Virgin Islands & on VInow.com. You can unsubscribe at any time. Simply fill in the form below.
×