Virgin Islands Travel Forum
auto dealers on St. Thomas?
Can someone tell me what automobile dealers are located on St. Thomas? I'm about to make a move, and I would like to bring a car that can be serviced. Specifically, is there a Nissan dealer or authorized service center on the island?


You will probably want to check the Relocation Board (above to the right) for questions about moving to and living in the VI!
Sorry, you can't reply to this topic. It has been closed.
St. John Feet Fins 4 Wheel Drive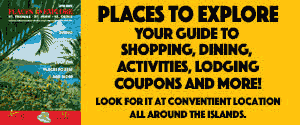 Virgin Islands Newsletter Signup
Sign up now for our FREE Virgin Islands Now Newsletter and we will email you regular updates on what's happening in the Virgin Islands & on VInow.com. You can unsubscribe at any time. Simply fill in the form below.
×