Flora in the USVI is quite memorable. You will find bright yellows, pinks, reds, purples, oranges… truly a rainbow of colors that bloom from various flowering bushes and trees. The easiest place to view the array of flora common to the USVI is along roadsides and in West Indian gardens at hotels and private residences. (Note: Both St. Thomas and St. Croix are home to a Botanical Garden.)
The Flamboyant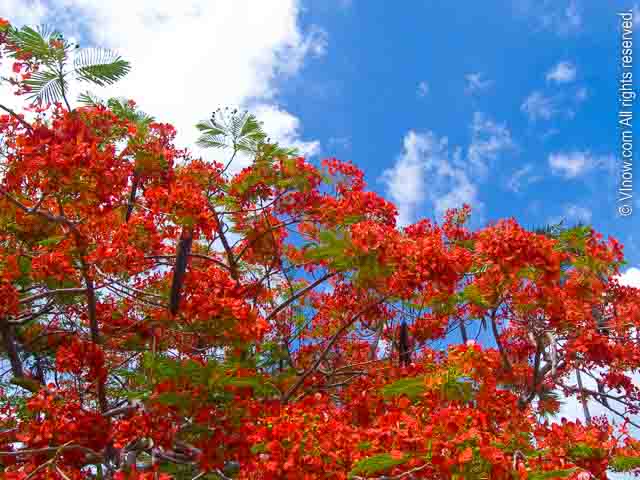 Among the verdant hills of the USVI are glorious crowns of orange. They are not present all year round, but burst into full displays of splendor during the late spring and summer months. The splendid orange flowers are those of the Flamboyant tree.
The flamboyant is a majestic tree that seasonally graces the islands with it's brilliant orange flowers. Originally from Madagascar the flamboyant is strongly associated with the Caribbean. When mature, the tree can grow upwards to 12-15 feet and the branches spreading wider. It has leaves which are rather tiny for such a large tree. The braches of leaves from a distance give the appearance of a brilliant green feather. It is however indisputable that the flowers of the flamboyant are the memorable feature. The flamboyant or Poiciana Regia burst into orange and more rarely yellow flowers between April and August. The flowers remain for 2 to 3 months and then are replaced by large flat pods which when shaken sound like maracas and are called "shack shack" by the local population. These pods are often used by children as a toy or musical instrument. The seeds contained in the pods grow slowly. Because of the slow growth and majestic appearance the flamboyant has gained a royal stature among residents who respect the adult trees with similar fashion to the way old oak and cedars are respected on the mainland.
The Hibiscus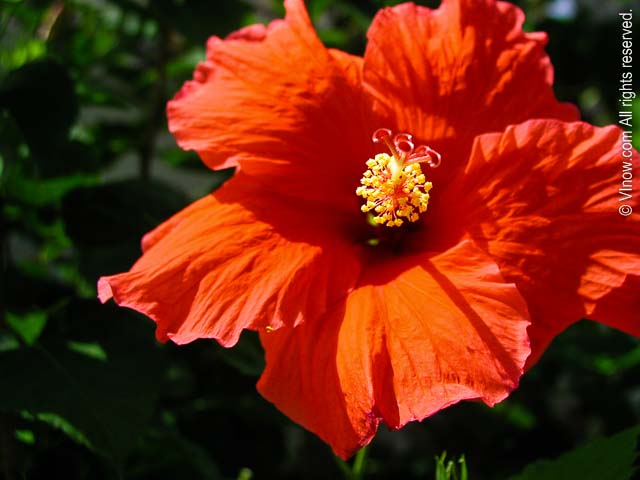 There are some 19 species of trees and bushes belonging to the hibiscus family and found in the Caribbean. In general the hibiscus is a bush with green rough edged leaves which flowers in various colors. The hibiscus bush is often used for making hedges or to beautify fences or in front of doorways.
The bush flowers year round and flowers differ in color and variety depending on species. The flowers themselves generally open during the day, and delicately close at night. The flower generally has 5 petals. Colors range from yellow, white and pink to red, orange and violet. The flowers can be single, double (as in the rose variety) or lacy and hanging. The hibiscus is a common element in the traditional West Indian gardens of the USVI.
More on the Flora of the USVI.