Snorkeling is one of the top activities in the St. John National Park. The island's waters support fascinating coral reefs, mangroves, sea grass meadows and more. Kelli, a St. John enthusiast and avid diver gives us this snorkeling report.
Part 2
This is Part 2 of Kelli's photos and comments on snorkeling on St. John from her August 2018 visit. All the great photos are Kelli's pics. Thank you Kelli for sharing! Read Part 1 of Kelli's Snorkeling Update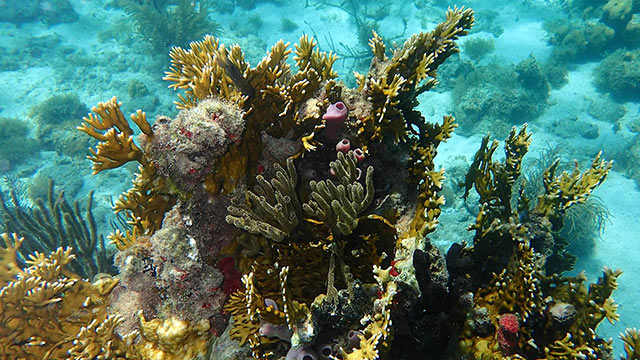 Haulover North Side
"We went right first and sandblasted is a good term. There were a few of the coral covered boulders and little things to be seen. Spent ten min taking a pic of a slender file fish, not sure I've seen them on St. John before, but always cool to spot one. Swam along the shore to the left side, nothing there and a very brown hue in the water from the sargassum. The way left side, out and north, where the large masses of coral were took a big hit. I was expecting the worst, but honestly surprised they were 90% intact, just stripped. There were sea fans everywhere, loads of the soft corals/plants that are like soft tree branches. I saw a huge puffer fish" – Kelli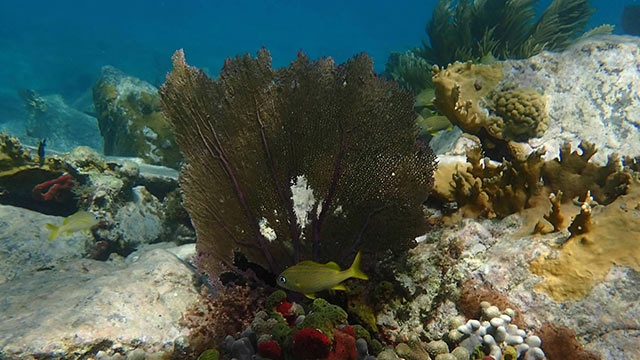 Haulover South Side
"Great visibility compared to the other side. This was very close to how I remember it, never my favorite, but always good. Entered at far right side and sort of ho hum brown until further out and to the point, saw a great sea cucumber and another slender file fish, but sad to see my favorite specimen of pillar coral was 90% damaged, all the towers were snapped off and I didn't see them anywhere nor see any other really broken coral, probably because it is mostly stuff growing on huge boulders. Swam across, just love where that reef is visible and drops off to like 60 feet.

Headed back in, and closer to shore it got more colorful and so calm. Saw a really nice corkscrew or similar anemone, some nice blennies and one huge one, biggest I've ever seen. We usually see a very shy octopus and a school of squid right back at the shore. The swim along the shore to our starting point was very colorful, we saw a red coral here, yellow one there, then a green one, etc., then it diminished off to the regular rocks. That section of rocks was just so pretty." – Kelli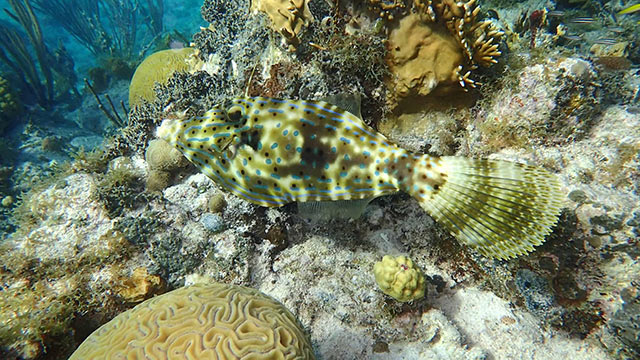 Pelican Rock 
"Very few broken corals. The first part along the shore looks like sand was dumped on the rocks, but once you get to the spot where rocks start breaking the surface and out to Pelican Rock it is really great; the soft corals are stunning, some pillars, and even 2 pieces of stag horn! Saw a few octopus, ray, burrfish, pretty orange feather duster, and slender files….did not realize they could change color, but saw one in a dark brown soft coral and he was dark brown, cool! ." – Kelli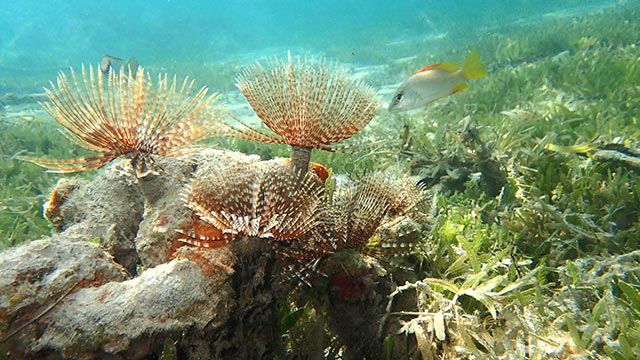 Princess Bay
"Always one of my favorites. The grass is a bit sand covered and there aren't as many little rock areas like before that were like little ecosystems, but we saw 2 mantas mating or fighting? And so many upside down jellies I got sick of taking their pics, a juvenile lizard fish, those tube worms that look like thick fishing line, pretty green crabs with hairy brown legs I have never seen, and 2 huge hermit crabs." – Kelli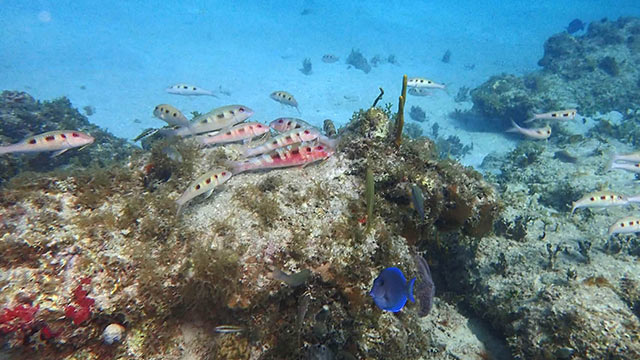 Klein Bay
"There were lots of colorful soft sponges or coral attached to the boulders at the point, swam back over the sea grass at Klein and came upon a school of squid putting on a great show, they were dancing and swirling all over and changing colors and were just beautiful, coming right up to us." – Kelli
Images © 2018 by Kelli. All rights reserved.
Want to learn more about snorkeling on St. John? Pick up a book about the Virgin Islands Coral Reef National Monument located around the island of St. John, a waterproof snorkeling book, or fish id card so you can identify what you see while snorkeling. Visit Snorkeling Guides