March 7th, 2018 – Come Help in our Recovery
Help clear Ruins, Trails and Vistas while learning about the history of the island and Virgin Islands National Park with Friends of VI National Park Volunteers.
All Are Welcome!
The volunteer van picks up at: 8 a.m., Park Maintenance next to Mongoose Junction.
Your Help Makes a Difference!
Tools, gloves, ice water and transportation provided.
Please Wear Closed Toe Shoes, Bring Your Own Water Bottle And Lunch.
No Sandals!!
For additional info contact Friends' Volunteer Coordinator at mgestwicki@friendsvinp.org or
visit https://friendsvinp.org/membership-giving/volunteer.
Location: Park Maintenance next to Mongoose Junction
Time: 8:00 AM to 2:00 PM
Fee Information: Free
December 20th 2017 –  Virgin Islands National Park today declared all roads, trails and beaches open at the park, 105 days after Hurricane Irma ravaged the island of St. John.
"Virgin Islands National Park is home to some of the most beautiful beaches in America and is a major economic contributor to the Island's economy, which is why it will be an important part of rebuilding after this devastating hurricane season," said Secretary of the Interior Ryan Zinke. "We are very excited to declare the park open for business, just in time for the holidays when many tourists visit the Islands."
"We've reached a major milestone at Virgin Islands National Park," said Virgin Islands National Park Acting Superintendent Darrell Echols. "Maho Bay Beach reopened last Wednesday, we finished the rest of the beaches Thursday and Friday, and the remaining work at Annaberg Sugar Mill was completed Friday afternoon. We are excited to welcome visitors back to their park."
All of the park's beaches have been checked for underwater debris, but visitors should still exercise caution. Mooring buoys have been assessed and either cleared for use or had a red tag attached indicating it needs additional work. There are either working vault toilets or portable toilets available at the major beaches. Beach gear rentals are available at Honeymoon Beach and Trunk Bay Beach, but visitors will need to provide their own food and water at this time. Glass bottles are not allowed on park beaches.
"This was a huge undertaking," Echols reflected. "Over the last three months, a host of federal employees from the National Park Service, U.S. Fish and Wildlife Service, and U.S. Forest Service have spent countless hours working with the park's permanent staff to get us to where we are today. The Friends of Virgin Islands National Park contributed a crew of sawyers to help with the trails, and carpenters, electricians, and a host of other skilled responders repaired employee housing and other facilities. The park still has a large number of challenges ahead, such as removing 64 displaced vessels sunk within the park or washed upon the shore, and completing major repairs on utility systems, roads, and several park houses. This has been a job well done!"
"Virgin Islands National Park is an important part of the community. It helps preserve the natural beauty of the Islands, generates millions of dollars in tourism, and ensures tourists and locals have recreational opportunities that the Virgin Islands are known for around the world," said Assistant Secretary of Insular Areas Doug Domenech. "I'm incredibly proud of the team at the National Park Service for their tireless work getting the beaches, trails, and visitors facilities up and running after the hurricanes."
December 1st 2017 –  Virgin Islands National Park is pleased to announce that Cinnamon Bay Beach will officially reopen on Saturday, December 2nd. The concession operations at Cinnamon Bay remain closed with no estimated reopening date. Cinnamon Bay Beach is the fourth beach to reopen in the park, joining Hawksnest, Honeymoon, and Trunk Bay Beaches.
Water sport equipment rental is currently available at Honeymoon Bay and Trunk Bay Beaches. Taxi service is available to Trunk and Cinnamon Bay Beaches. Honeymoon is accessible by hiking trail.
Dive teams have inspected the swim areas for submerged debris and removed what they found; however, visitors are encouraged to use caution when swimming in all areas of Virgin Islands National Park. Public mooring buoys will be assessed as soon as possible. In the meantime, users do so at their own risk.
In 2016, visitors to Virgin Islands National Park spent $59 million. Acting Superintendent Darrell Echols expressed his commitment to the local communities by saying "we recognize the importance of the park to the local economy, so getting this and other beaches open with basic visitor services has been one of our primary goals".
November 23rd, 2017 -, U.S. Secretary of the Interior Ryan Zinke and U.S. Virgin Islands Governor Kenneth Mapp announced the reopening of Christiansted National Historic Site and Buck Island Reef National Monument on the island of St. Croix and Trunk Bay Beach at Virgin Islands National Park on the island of St. John. The National Park Service is an important economic engine in the USVI, attracting more than a half a million visitors in 2016 and supporting 900 jobs in the community. Visitors spent $70 million and helped support $34 million in labor and more than $90 million in economic output.
"I couldn't be more proud of the hard work of National Park Service staff, volunteers, and their partners in the Virgin Islands. Their commitment to the park and to the community is inspiring. I've heard many stories of staff tending to the needs of the park and their neighbors before even taking care of themselves," said Secretary Zinke. "We have a long way to go, but every day we make progress toward getting these parks fully functional to visitors and back to providing important economic support to these communities as they return to normal."
"The reopening of Buck Island Reef National Monument, Trunk Bay Beach, and Christiansted National Historic Site represents another significant milestone in the recovery of the U.S. Virgin Islands," Governor Kenneth E. Mapp said. "These are, of course, premiere destinations for visitors, but are also significant recreation areas for Virgin Islanders – many of whom traditionally celebrate Thanksgiving at our beaches. Thanks to the Department of Interior, the National Park and all the Virgin Islanders that continue to work on facilitating our efforts to rebuild."
"National parks such as Christiansted National Historic Site, Buck Island Reef National Monument on St. Croix and Trunk Bay Beach at Virgin Islands National Park on St. John protect some of the best of our natural heritage. Together with other protected areas, they attract millions of visitors annually and help to protect the U.S. Virgin Islands' unique wildlife by acting as a refuge for threatened species," said Delegate Stacey Plaskett. "Although their primary purpose is the protection of biodiversity, National Parks also deliver other invaluable economic, social, cultural, and health benefits to our territory's residents. Future generations deserved the right to see these natural values intact and protected as we do today."
The National Park Service protects and preserves significant historic sites, important ecosystems, and popular beaches that are vital to the tourism economy in the Virgin Islands. For example, visitors to Virgin Islands National Park spent $70 million in 2016.
Christiansted National Historic Site demonstrates the architectural, economic, and political influence of 18th century Europe like no other place in the Caribbean. The 19,015-acre Buck Island Reef National Monument includes the 176-acre island consisting of tropical dry forest and 18,839 acres of submerged lands and coral reefs.
With the opening of Trunk Bay Beach, Virgin Islands National Park now has three popular tourist destinations ready to receive visitors. Honeymoon and Hawksnest beaches reopened on November 13. Water sports equipment rental is currently available at Honeymoon Beach and equipment rental will resume at Trunk Bay Beach today. Taxi service, essential to getting visitors to park beaches, has also resumed.
To reopen Trunk Bay Beach, the National Park Service stabilized numerous structures and removed fallen trees and more than 480 cubic yards of debris. Dive teams removed underwater debris from swimming areas, however visitors are encouraged to use caution when swimming in all areas of Virgin Islands National Park.
While these sites are open to visitors, many services and features at NPS sites across the islands remain closed or inaccessible while cleanup continues.
November 13, 2017 – We are delighted to announce that Hawksnest Beach and Honeymoon Beach are officially open! Vault toilets or port-o-potties are in place. A huge amount of debris was removed from the beaches themselves and park divers removed submerged debris from the swim areas. Even so, continue to be cautious when swimming anywhere in park waters. As you well know, a lot of "stuff" ended up blowing into the water around here!
November 5, 2017 – Virgin Islands National Park maintains over 400 buoys, channel markers, and navigational aids. Many of these were either completely lost or moved off station during the hurricanes. Navigational aids and channel markers are the first priority for re-positioning or replacement and work is underway. Johnsons Reef buoys are being re-positioned early this week. If you are boating in the park, please use caution!
November 1, 2017 – The Los Diablos Fire Crew is here to help with stabilization efforts at the park. The 23-person crew is part of the Big Bend National Park Wildland Fire Program in Texas, with most of the crew members from the Mexican states of Coahuila and Chihuahua. They are assisting with park employee housing and facility stabilization, as well as cutting, clearing and stacking debris from roads, trails and beaches. We appreciate their help and welcome them to the National Parks of the Caribbean.
October 29, 2017 – A big "thanks" to the Arrowhead Hotshots! They are an interagency wildland fire hotshot crew out of Sequoia-Kings Canyon National Park in California. They are headed home after assisting us with stabilization efforts, including clearing lots of debris from trails and roads. Thank you for your service.
October 27, 2017 – The National Park Service is looking for the owners of displaced vessels within the boundaries of the Caribbean National Parks.
At this time we have located 180 displaced vessels, with an unknown number that may be submerged. Please contact us at caribbean_recovery@nps.gov.
October 23, 2017 – Stabilization and recovery activities are underway at all the National Parks in the Caribbean. The organizational alignment between the parks has helped tremendously to facilitate the resources needed for the greater good of all parks. A group of San Juan National Historic Site employees with specialized skills such as carpentry, plumbing and electrical are assisting the Virgin Islands National Park. They are helping fellow coworkers with infrastructure stabilization as many structures, including park housing, were severely damaged.
October 20, 2017 – San Juan, Puerto Rico — The Caribbean Parks of the National Park Service are quickly and safely moving forward with stabilization efforts and offering a variety of public access and visitor services.
National Parks of the Caribbean Superintendent Randy Lavasseur said, "We are working hard to open the beautiful parks of the Caribbean, and provide for a safe and enjoyable visitor experience. The stabilization and recovery efforts are ongoing and we are beginning to open areas of the parks as conditions allow."
The National Park Service Western Incident Management Team, comprised of primarily National Park Service specialists, as well as other Federal employees, is assisting the parks with stabilization efforts. The team is currently stationed at San Juan National Historic Site, although most of the team will soon transition to St. John.
Each of the six National Park Service units in the Caribbean has a branch unit working under the direction of the Western Incident Management Team. The branch units include a variety of supporting positions and expertise.
Other National Park Service specialists are assisting the Caribbean parks as well. A facility assessment team is assessing all park structures and infrastructure, and a Caribbean Hurricane Emergency Rehabilitation Team will arrive this weekend. The rehabilitation team will help develop:
Objectives to move parks out of the stabilization phase,
Objectives that will transition the parks into recovery,
Strategic plan for the recovery with the overarching mission to reopen the parks, and
Financial plan for each phase.
The Caribbean Parks include:
San Juan National Historic Site,
Virgin Islands National Park,
Virgin Islands Coral Reef National Monument,
Christiansted National Historic Site,
Buck Island Reef National Monument, and
Salt River Bay National Historical Park and Ecological Preserve.
Several areas of the San Juan National Historic Site are being stabilized and the park is positioned to open once sustainable power is achieved.
The Virgin Islands National Park, Coral Reef National Monument, and the Salt River Bay National Historic Park and Ecological Preserve sustained significant damage and in some areas, total loss. These areas are considered unstable and stabilization work is being conducted. The stabilization objectives for these sites are:
Safe housing for park employees,
Safe access for employees,
Safe work environment for employees,
Debris removal, and
Submerged structure and shipwreck assessments.
Recovery efforts at Christiansted National Historic Site and Buck Island Reef National Monument are continuing and anticipated to be completed soon. The parks do not have sustainable power, but are planned to partially open next week.
The visitor center at Salt River Bay National Historic Park has been significantly damaged, but stable, with recovery efforts underway. Public access to the visitor center is anticipated to be available in a few weeks.
October 15, 2017 – We are having an extremely wet day here on St. John and at Virgin Islands National Park. We have experienced heavy downpours since last night.  The good news is that more and more people are arriving to assist the park. A big thank you to all of them!!
October 13, 2017 – DOI Assistant Secretary for Insular Areas, Doug Domenech, traveled to St John, VI with members of his team Sat Oct. 12.
Domenech met with Virgin Island National Park's Chief Ranger, Rick Gupman, and members of the NPS Eastern Incident Management Team (EIMT) about relief and recovery efforts. The park covers roughly 75% of the Island making its recovery a bulk of the recovery effort on St. John.
Most of the damage to the park happened five weeks ago when it was decimated by Hurricane Irma, followed two weeks later by Hurricane Maria. Even though Hurricane Maria passed through the Caribbean without a direct hit to St. John, the devastating winds and rain in the outer bands of the hurricane caused more damage and delayed relief efforts. Access to reliable food, water and power continue. Many of the main roads on St. John run through the park and have been impassable for weeks due to downed trees or wind-blown sand and debris blocking the roadway. Some area roadways suffered washouts from heavy rain and flooding and will be in need of more in-depth repairs. Arrowhead Hotshots have been brought in to clear trees and debris from the roads with chainsaws in order to allow traffic to flow and provide access for more relief resources. Some areas of the park remain inaccessible to the assessment teams and it may be a few weeks before the totality of the damage is completely known.
Damage to the parks infrastructure and cultural resources is still being assessed. However, many buildings have been damaged or destroyed. As a result, many of the parks employees have lost their homes as well as their park offices. Some Virgin Island National Park Employees are being temporarily reassigned to other National Park units in the Continental U.S. Those that remain have been reassigned from their normal duties to support the EIMT and the relief effort, despite their own personal loss of homes and belongings.
October 6, 2017 – Puerto Rico and Virgin Islands Park Units to Remain Closed Friday, October 06, 2017 8:00AM EDT Incident Information: http://go.nps.gov/Hurricanes San Juan, PR. – All National Park Service Units in Puerto Rico and the Virgin Islands will remain closed. The NPS Eastern Incident Management Team (EIMT) and the Superintendent for the National Parks of the Caribbean reiterate and reinforce the closure of all park units due to continued Hurricane Maria recovery and emergency stabilization efforts. Under the authority granted the National Park Service and the Superintendent under 36 CFR §1.5 – Closures and public use limits, the closure(s) will remain in effect for the foreseeable future. Unsafe and hazardous conditions continue to exist for both the general public and park employees. No date to reopen any areas is known at this time. As local conditions improve the Superintendent will evaluate and open specific areas. Due to the closure all holders of Special Use Permits should consider any current or pending permits to be on hold until the park area re-opens. Permit holders are encouraged to visit https://www.nps.gov/aboutus/news/severe-weather-response.htm for updates to local conditions and progress of stabilization efforts, or visit the individual park unit website.
VIRGIN ISLANDS VACATION PLANNING PACKET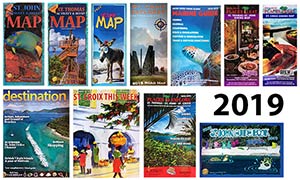 This material covers where to stay, fun things to do, culture, local events, beach guides, how to get around, plants and animals, history, tips, things to see, art galleries, shopping and so much more.