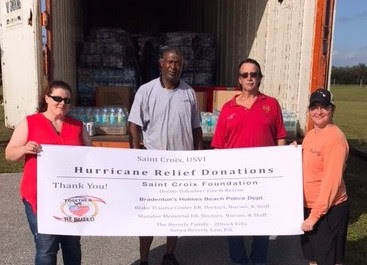 October 18, 2017 – St. Croix Foundation for Community Development announces to the community at-large as well as to their Fiduciary Clients that the Foundation is open for business and fully-operational with electricity, phones, and internet connectivity. Sponsored Projects should feel free to contact the Foundation by phone or internet. The Foundation's modified office hours are from 9:00am until 4:30pm.
In response to the catastrophic impact of Hurricanes Irma and Maria on the USVI and sister islands in the Caribbean, the St. Croix Foundation stands firm in its support of local and regional relief and recovery efforts and aims to work in partnership with organizations that are undertaking efforts to restore communities and families.
In support of local and regional relief and recovery efforts, the St. Croix Foundation has launched the CARE (Caribbean Assistance and Relief Effort) Fund. This fundraising effort is already providing direct support for front-line relief, rescue and recovery efforts undertaken by entities in the USVI and Caribbean Basin. The Foundation is currently collaborating with on-the-ground organizations that are delivering much needed services and goods, supplies, and equipment for immediate relief throughout the USVI, and this fund will support that effort for the immediate and long-term. Interested parties can visit the Foundation at www.usvigives.org to contribute gifts to the Fund.
To aid in immediate recovery and provide an equitable response for the future, the Foundation's current efforts include:
Coordinating and convening diverse community partners, national philanthropic networks, fellow nonprofits and volunteers to foster collaboration and maximize impact of relief efforts.
Launching its Survey on the Status of Households Impacted by Hurricanes Irma and Maria. This survey asks St. Croix residents about the damages to their homes, the ages and unmet needs of individuals living in their home, the impact to their employment and more. Survey results will help connect organizations with individuals who have critical needs as well as to more broadly assess and inform the community-wide dialogue about next steps in the recovery process.
Sponsoring the shipment of critical relief supplies like water, hygiene products, baby supplies and more.
Sponsoring the cost of security for keeping relief supplies safe.
Supporting distribution of relief supplies including a neighborhood distribution effort this past weekend in Williams Delight, an area hit hard by Hurricane Maria
Conducting a Nonprofit Damage and Needs Assessment Survey currently being completed by local nonprofit partners to help assess the impact of the storm on St. Croix's civic sector and what resources are necessary to get these organizations fully operational.
Providing temporary office space for a growing number of nonprofit organizations displaced by the storm including the Boys and Girls Club and the Domestic Violence and Sexual Assault Council.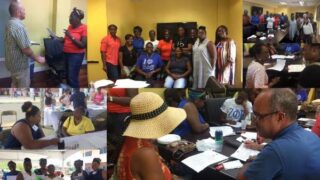 As an operating foundation, St. Croix Foundation's efforts are ultimately aimed at supporting disaster recovery and building resiliency for the long-term. The Foundation is focused on leveraging its 27 years of experience in holistic community development as they stand in solidarity and collaboration with community partners who are working hard to bring relief and ensure equity for those most severely impacted by recent storms.
As the Virgin Islands Community embarks on the long, steady journey toward recovery, the Foundation wishes our community a focused and forward-thinking recovery. According to St. Croix Foundation's Executive Director, Deanna James, "St. Croix Foundation does not just FUND the work, it IS the work. We have our sleeves rolled up and are hard at work supporting a progressive and prosperous future for the people of St. Croix and the entire Virgin Islands."
For more information on the St. Croix Foundation and to learn more about the comprehensive recovery work being spearheaded by the Foundation, visit the St. Croix Foundation's website at www.stxfoundation.org or contact the St. Croix Foundation directly at 340-773-9898.