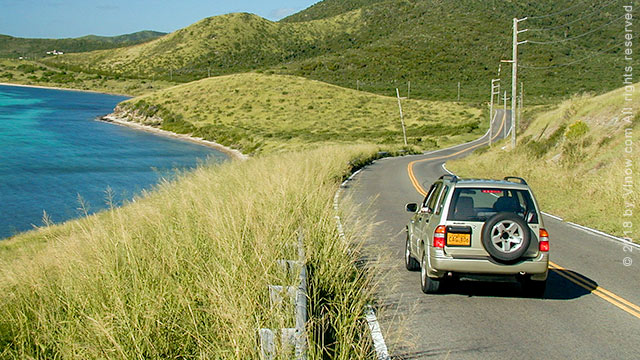 Exploring St. Croix is best managed by renting a car or jeep. St. Croix is a large island with many beaches and areas of interest. If you would like to explore the island at your leisure the best way to do it is by having your own mode of transportation. Many rental agencies are conveniently located at the airport, at hotels and resorts and in the main towns.
Average price on rental cars is dependent on size, for example compact vs SUV, with a ballpark range of $45 to $80 a day. Most car rentals have offerings that include economy vehicles, mid-size four doors, jeeps and SUVs. Trucks and vans are also available, though not common.
Centerline Car Rentals has been serving St. Croix since 1990. We provide personalized and professional service seven days a week from three convenient locations: we meet all flights at our St. Croix Airport Terminal location; we have a location in downtown Christiansted, next to the seaplane dock; and our Mid-Island – La Reine location is right on Centerline Road. Centerline has a wide variety of well-maintained, reliable vehicles ready for you to explore St. Croix — including cars, Jeeps, SUVs, trucks and vans.
Renting a car will allow you to see the island at your own pace. There are several agencies to choose from. Car rental agencies have a variety of vehicles; jeeps and cars to eight passenger min vans. Renting a car is highly recommended if you plan to spend several days on the island. Having your own transportation will make sightseeing, beach hopping, dining, shopping much more convenient. Enjoy your trip to St. Croix!!