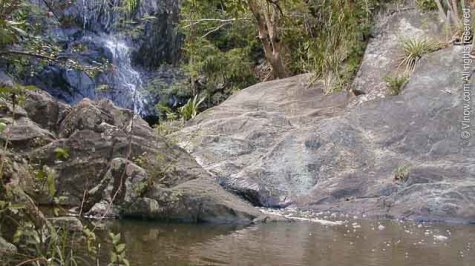 This trail starts 1.5 miles down the Reef Bay trail. Mysterious rock carvings are located at the end of the trail. In rainy season a small waterfall and stream run through the rocks; in dry season the stream becomes small brackish pools.
Trail Information
Located on the Southside
0.46 Miles Trail
30 minutes Hiking Time
Moderate Hike
Map
Located on the Southside
We'd Love Your Feedback on Petroglyph Trail
Your review will not only provide candid feedback, but it will also help others make informed decisions when planning a Virgin Islands Vacation. Thanks, VInow.com
This was a short trail off the main Reef Bay Trail. It was shaded and through a beautiful forested area. Saw some hermit crabs, lots of little lizards and deer. The petrogplyhs were neat – noted 3 areas with symbols, some faces and a cross. Very cool spot; the forest, little trickle of water on the rocks, pools of water, the dragonflies flying by and mongoose scurrying about – it all creates a great sense of communion with nature.