Get a bird's eye view of St. John's fabulous coastal scenery, green hillsides and the spectacular blue ocean that surrounds it all, with a fun parasailing adventure. From the excitement of that gentle lift off the boat into the sky; to soaring above it all attached to your colorful parachute – it's fun for the whole family. Go up in tandem with your sweetie or do a triple flight with your kids or friends. You will smile the whole time.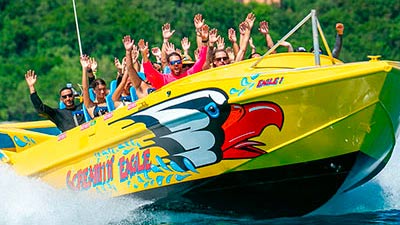 VI Jet Boat Tours will take you for one of the most amusing spins in the world, where thrill is everything, and staying dry is not an option. Screamin' Eagle is an awesome 750 HP turbo-charged jet boat. You will experience fun commentary, and beautiful scenery with views of neighboring islands and cays. You'll race at exhilarating high speeds in crystal-clear water and have a blast with breathtaking 180-degree spins, wild fishtails and awesome power brake stops that will have you yelling for more! The Screamin' Eagle is a sightseeing thrill-ride of a lifetime – an exciting and memorable way to experience beautiful St. Thomas.
Book Now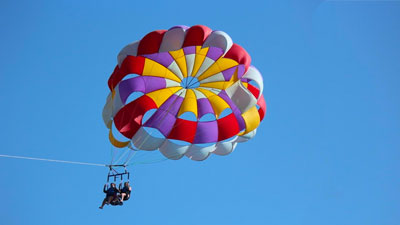 Go Parasailing in St. Thomas!
Come fly with us in the beautiful U.S. Virgin Islands and experience the thrill of an Offshore Powerboat ride, Parachuting, Ballooning and Gliding all in one "Action Packed Adventure" at a fraction of the cost. We can accommodate ages 6 and up. With our 100% safety record, parasailing in St. Thomas is fun for the whole family!
Book Now