Ask a visitor or resident what they love most about St. John and the list is likely to include the ocean, beaches, National Park, snorkeling, beautiful coastlines, tropical weather, and relaxing at a beach bar, toes in the sand, sipping a rum-drink. Looking for a fantastic way to get all of that into one perfect day? Go Boating! Boating is one of the highlights of a vacation to St. John. Visit the boat charters listed below for more information. Let them know whether your group is looking for party-time with your besties, a family vacation, a special wedding outing, or if you are looking for a luxury, exclusive excursion. Also, give them an idea of where you'd like to go, they of course will make suggestions too based on their knowledge of the area. At the end of this page is a section on What to Expect; it covers types of boats, rates, captain, fuel, and other details. Start planning what's likely to be the best day of your vacation to St. John, your day out boating.

OTL is the top-rated boat charter rental company in St. John USVI. Our luxury powerboats, local knowledge, and Coast Guard-certified Captains make for unforgettable, family-friendly boating excursions around St. John. Check out our website to see customer reviews, learn more about our boats, and discover all the amazing places we can take you! We are happy to pick you up in many convenient spots around the island including from cruise ships.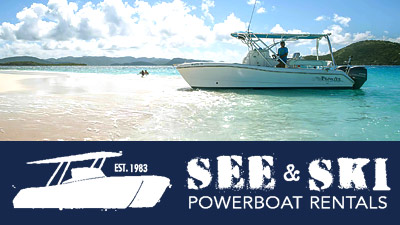 See and Ski Powerboat Rentals
See and Ski is a top choice for chartering a powerboat in St. Thomas and St. John. Since 1983 they became the go-to charter boat rental company, specializing in repeat customers, unsurpassed personal service, and best of all - FUN! Island hop, visit beach bars, go fishing, spearfishing, lobstering, diving or snorkeling. Their fleet features top of the line, comfortable, fuel efficient 26', 33', and 42' power catamarans, accommodating different group sizes. These boats are known for a smooth, dry ride. The twin hulls take all sea conditions easily. Experienced captains provide you with an individualized itinerary for every occasion, and the best day possible.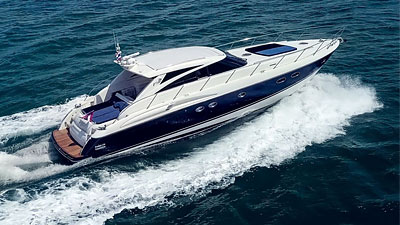 Sonic Charters has a full suite of offerings for day charters to the US and British Virgin Islands. The company offers private, custom day trips on their 32' Intrepid, center console, 33' Jupiter, and 37' center console powerboats as well as offer a 50' Sea Ray and 58' Viking Princess Yachts for more luxurious experiences. With five boats to choose from, Sonic has something for everyone and can cater to couples on their honeymoon to extended families of 12!
$50 off with Sonic Charters. Whether you want to party the day away or lay back and unwind, we want to make it happen! We look forward to spending the day with you!
Book Now
Home of the most professional crew in the islands. Pick from a variety of private charters, boats legally certified for up to 30 passengers. We have boats for every budget starting at $795. Call for details (813) 465-2665 or visit stjohnboatrental.com.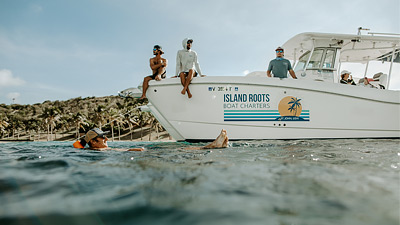 Ranked #1 on Trip Advisor of all Outdoor Activities on St. John! Island Roots Charters provides a high-quality, private day charter experience exploring both the U.S. and British Virgin Islands. An experienced team of captains will create a personalized trip based on your group's interests, sea conditions of the day and various other factors that will be sure to enhance your charter experience. Our fleet consists of three 32' World Cat Power Catamarans. Built for maximum comfort, a smoother and more stable ride, we can accommodate various group sizes and budget. Capacity for 12 guests on one boat, or up to 36 on all three!
Local Mocean Charters is owned and operated by Captain Tony - a born and raised Virgin Islander with a 100 Ton USCG license and 25+ years of experience. Our 35′ Intrepid is top of the line and is certified to carry up to 12 passengers. PERKS: A dive door providing easy access for swimming, Bluetooth stereo, high quality snorkel gear, large ice-filled cooler, new engines and upholstery - all make this the perfect boat! The day is yours to swim with turtles, snorkel the reefs, explore the unexplored or throw in a fishing line - all tailored to your own idea of fun. This will surely be the BEST day of your vacation.
What do Brad Pitt, Kenny Chesney, and Cate Blanchett all have in common? They all cruised on Take it Easy! Explore the islands in luxury! Completely customizable charters around St. Thomas, St. John and the BVI; the day is yours! Whether it's with family, friends, a wedding party, or private getaway; you will surely enjoy the crystal blue waters and the warm Caribbean sun with TAKE IT EASY. Two luxurious Sea Rays available; accommodating 12 passengers each in comfort and style. Full bar and light snacks included. Learn more on our website, or at www.facebook.com/takeiteasyvi. Check out our excellent reviews on Trip Advisor!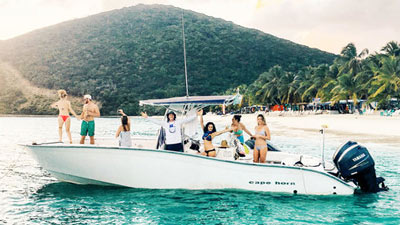 We are a locally owned and family operated charter boat company offering unique day trip adventures throughout the USVI and BVI. Based in St. Thomas we are proud to have some of the most skilled and experienced captains in the business. Our captains are all U.S. Coast Guard licensed and have expert local knowledge of our waters having been raised and trained in the Virgin Islands by generations of accomplished sailors. Our comfortable 32-foot center console Cape Horn powerboats ensure a fun and smooth ride as you explore secret coves, beautiful beaches, hidden grottos, and other incredible destinations. Offering private customizable trips and shared per person trips.
Salty Daze USVI and Salt Deck
VETERAN and OLYMPIAN owned SALT DECK is one of the most AFFORDABLE ways for up to 12 guests to see Coral Bay/East End and a stop at LimeOut! Our double decker pontoon boat boasts two levels, a WATERSLIDE, spacious layout, comfortable seating, bean bag chairs and hassle free boarding. Equally amazing, our pricing includes everything except for gratuity- no added fuel or extra passenger costs. Included in every charter: WATERSLIDE, @iriepopsvi, reef safe sunscreen, Guava Rum Lemonade, GoPros, filtered ice water, Photobooth/Selfie Station, snorkel gear and so much more! Want to run around the whole island? We do that too! Join us on our 31' Mako Center console.
Experience the British Virgin Islands and the U.S. Virgin Islands the way the locals do! Book with One Love Charters and you'll be able to visit all the destinations the VI has to offer... Including the ones you can't read about! Whether you want to snorkel beautiful reefs, bar hop beach to beach, or just relax on the boat with an ice cold beverage in hand, One Love Charters will work to make your day with us the highlight of your vacation!
Lion In Da Sun Charters (est. 2003) uses a 28ft Scout and an economical 26ft Twin Vee power catamaran for private, customized day charters. Both provide stability, speed, and all-around seating while island hopping, snorkeling, and visiting beaches and bars. Visit the British Virgin Islands or stay local (no passport required) and explore the bays and cays surrounding St John and St Thomas. Enjoy lunch at Lime Out, the Pizza Boat, Secret Harbor, Water Island, or in Cruz Bay! Our locally experienced captains are eager to describe every destination along the way, and help you decide where to go. It's your day, your way!
Nate's Custom Charters specializes in providing personalized and intimate day charters. Our custom-built power catamarans offer tons of shade, very comfortable seating, and the smoothest ride even on the roughest days. Charters include captain, snorkel gear, beer, water, soda, and homemade painkiller drinks. Nate has lived in St. Thomas for over 20 years and knows all the best spots. We love to snorkel with turtles and colorful fish, explore the shipwreck at Buck Island, visit secluded beaches, the National Park, and stop at a fun lunch spot. If you're looking to get away from crowds and have the best day of your vacation, then look no further.
Come explore all the U.S. and British Virgin Islands have to offer aboard one of Sunshine Daydream Charters three spacious World Cat boats, including two NEW 32ft luxury World Cat's. Snorkeling, island-hopping, beach bars, shopping; whatever your pleasure let us show you the best day of your vacation! Sunshine Daydream boats offer spacious and comfortable seating in both the sun and shade for up to 12 guests or combine two or three boats in tandem for parties of up to 30! Your charter includes a Coast Guard licensed Captain, cooler stocked with ice and water, top of the line snorkel gear, Bluetooth stereo, swim noodles, and all the Coast Guard required safety gear.
A boat day will be the BEST Day of your Virgin Islands vacation! Stormy Pirates Boat Charters has the boats to fit every sized group and budget. Power boats and Sail boats ranging from 26' - 42'. We are a locally owned and family operated business offering Full Day & Half Day charters through both the U.S. & British Virgin Islands. Let us customize a Private Trip for your group or join one of our Scheduled Charters at Per Person Pricing.
What to Expect: St. John Boat Rental and Charter Costs
There are a variety of options when it comes to boat rentals in St. John. Boats include 25'-35', 36'-44' to 45'-50'; and are center consoles, catamarans, or sport cruisers. Many boat charters cater to groups of 6, but several can accommodate 10 or 12 passengers. Prices vary by type of boat, size, capacity, and amenities. A half day charter on a center console averages $400-$600; and on a Sea Ray around $750-$900 for a half day. For a full day rental on a center console the range is $500-$1000; and full day on a Sea Ray about $1,300-$4,000. Meals are generally not included; some boats do have snacks and a few include ice, soft drinks, and water. You are welcome to bring your own or stop at a beachfront bar for lunch and refreshments. Check whether the captain's fee is included in the rate or additional. Captain's rates are around $100 for half day, $150 for full day. Very few boat rentals are available bareboat; and the few that do require the renter to have strong knowledge of the area's waters. Fuel is another consideration; it is included in some boat rental rates, for others its additional based on usage. How much fuel is used is a factor of boat type and of distance traveled. Budget $75-$200 for fuel on a half day boat trip, and $150-$300 for a full day. Want to head over to the British Virgin Islands on your boat trip? It belongs to another country; and there will be a custom's fee charges of around $45-$50 a person. If you explore and play within the U.S. Virgin Islands, then there are no additional fees related to customs. Gratuity is usually not included in the boat rental rates; and your captain and crew appreciate tips. All figures are provided for reference only, and are subject to change.