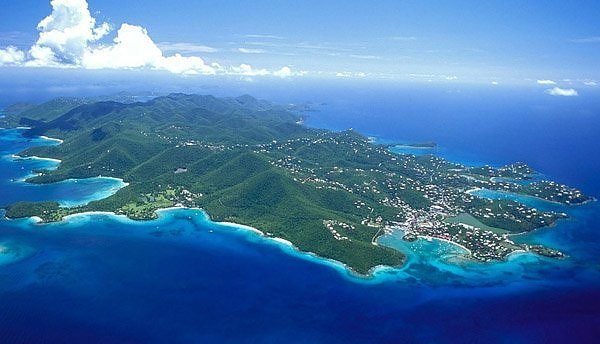 The Virgin Islands National Park's diverse beaches, coral reefs, historic ruins and hiking trails provide endless hours of exploration and enjoyment, as well as inspiration and opportunities for reflection. Visitors can enjoy a variety of activities on the land and in the water. Some visitors explore the park on their own, while others prefer a guided tour with a park sponsored program, a boat charter or by taxi.
The Visitors' Center, in Cruz Bay, is the place to start your exploration of St. John. The exhibits presented will introduce you to the park's history, hiking trails, historical sites and local flora and fauna. Park rangers can help answer questions about trails and hikes. Brochures about the Park, maps and books are also available at the center. The center is open daily from 8 am to 4:30 pm.
Beaches
Beautiful beaches are definitely a large factor in the allure of the Virgin Islands National Park. White sand, crystal clear water, great snorkeling, sunny warm climate and the tranquility of St. John lends to an unforgettable experience. The most well known of St. John's beaches is with out a doubt Trunk Bay; voted most beautiful, most photographed and is just overall a great beach. Cinnamon Bay is another very popular beach as is Caneel Bay, Hawksnest, Honeymoon and Maho Bay just to name a few. There are many beach options. Visit the St. John Beach Guide to help you decide.
Snorkeling
The marine environment in the National Park's waters are incredible. Coral reefs, sea fans, small and large fish, rays, turtles are all there for you to behold and appreciate. Trunk Bay has a 225-yard, self-guiding snorkeling trail marked by underwater signs that identify coral and marine life. Other beach accessible snorkeling sites are available like Waterlemon Cay, Lameshur and Caneel Bay. Visit: St. John Snorkeling
Diving
The Virgin Islands ranks as one of the Caribbean's premier diving sites. Some major points of interest include Whistling Cay, Haulover Bay and Reef Bay. For the safety of yourself and others, scuba diving is not permitted off designated swim beaches. Dive operators on St. John are available to rent gear from, teach introductory dive classes, certify and take you out diving! Visit: St. John Scuba Diving
Hiking
There are 22 unique nature trails in the National Park, you are bound to find several that appeal to you. You can find an enjoyable 30 minute stroll through shady trees or an invigorating full day hike through Danish plantation ruins, mysterious carvings and lush forest. Which ever you choose you will be taken away by the beauty of the Virgin Islands National Park! Descriptions of each trail are available, select the pages you would like to view from the table below. For Guided Hiking Trips Visit: St. John Hiking Trails
Special National Park Tours and Demonstrations
Contact the Visitor Center at (340) 776-6201, ext. 238 to inquire and make reservations for the special National Park interpretative programs listed below:
Annaberg Cultural History Demonstration
Visit Annaberg Sugar Plantation ruins and learn about sugar production, the slave trade during the period of European economic expansion in the West Indies and what former slaves did to survive after emancipation. Witness bread-baking on a coal pot, basket weaving and subsistence gardening demonstrations. Activities begin at 10:00 am and end at 2:00 pm on Tuesdays and Wednesdays for basket weaving, Wednesdays thru Fridays for bread baking and Tuesdays thru Fridays for gardening.
Snorkel Trip
Tuesdays at 9:30 am. Snorkel over a coral reef and discover the Parks underwater treasures. The ranger will point out different coral formations, the organisms that live there and explain how they relate to each other. In addition, you will learn what the Park is doing to protect these valuable resources. Bring your mask, snorkel, fins and a t-shirt to prevent sunburn. Program is not for novice snorkelers. Meet at Trunk Bay's west lifeguard stand.
Waters Edge Walk
Sundays at 10:30 am. Where the land meets the sea you will find the shoreline, a place of constant environmental change. Many plants and animals depend on this complex zone for their survival. For example, ghost crabs inhabit the white sand beaches scavenging for food, and mangroves provide shelter and protection for juvenile fish and crustaceans. Join a ranger and learn more about the coastal plants and animals. Meet at the Leinster Bay trail head below the Annaberg ruins. Shoes for wading are recommended.
Evening Program
Mondays at 7:30 pm, Cinnamon Bay Campground Amphitheater. (Except in September when campgrounds are closed.) The Evening Programs, entitled "A Ranger's Choice", include slide shows, talks or demonstrations on different topics about the Park and the island of St. John. Program topics include the flora, fauna, history and culture.
Reef Bay Hike
Every Monday and Thursday, at 9:30 am; schedule is subject to change based on demand. Space is limited. The secrets of St. John's tropical forest, petroglyphs, and sugar mill ruins come alive on this three-mile hike. The hike is mostly downhill, but is not necessarily easy due to its length, steep rocky terrain, short but strenuous uphill sections, and the prevailing heat and humidity. In addition, there is the remote possibility that deteriorating sea conditions might require hiking back uphill to the trail head. Visitors with circulatory or joint/muscle problems, other medical conditions, or with small children, should carefully evaluate their ability to do this hike. This hike includes transportation: a shuttle ride to the trail head (cost $5.00) and a boat pick-up which returns hikers to the Visitor Center (cost $15.00). All hikers must meet at the Visitor Center by 9:30 am. Participants should bring lunch, 1 – 2 liters of water per person, any special medication (taken daily) and a swimsuit for a quick swim at the trails end. Wear good hiking shoes (no open-toed footwear or aqua socks) and cool comfortable clothing. More Information about Reef Bay Trail.
---
Boating
Renting a boat and beach hopping is a great experience. You can also charter a boat with captain for a day or a yacht for a week or more. There are rental boat operations on St. John that rent small boats and dinghies perfect for a day of beach hopping via the sea! A Sailing charter will show you some of the beautiful shorelines and snorkeling areas of the National Park and often include lunch and drinks, making for a perfect and relaxing day.
Bird Watching
Bird watchers will enjoy hiking around St. John and in particular the Francis Bay trail. The winter months are the optimum time for bird watching. There are some 160 bird species known to the islands, including parrots, hummingbirds, pelicans, ducks, egrets and more. Contact the National Park Visitor Center about bird watching trips that they might offer.
Fishing
Fishing in Park waters is open only to hand held rods. No fishing is allowed in Trunk Bay or in any beach swimming areas. Spear guns are prohibited. Please read USVI Recreational Fishing.
Camping
Camping on National Park lands on St. John is restricted to the Cinnamon Bay Campground. Accommodations include bare tent sites, sites with tent-covered platforms already set up and small cottages. No backcountry or beach camping is permitted within Virgin Islands National Park.
Archeological Research
The Virgin Islands National Park Archeological Lab is located at Cinnamon Bay. This lab is open to visitors, who may want to take a peak at recently discovered artifacts, learn more about the archeological history of the island or volunteer. For information on the archeological research at Cinnamon Bay visit the Friends of the VI National Park website.
For Kids – Junior Ranger Program
To help protect the natural and cultural resources of St. John, you are welcomed to join the Junior Ranger program on St. John. Stop by the Visitor Center and pick up a Junior Ranger workbook. Workbook exercises include "interviews" with trees, word searches, games and a nature hike. At the end, you return to the Visitor Center and you are awarded with a Junior Ranger program certificate, "Smokey Bear" hat, Junior Ranger badge and pencil. This is a fun, educational activity for kids to do while visiting Virgin Islands National Park. Read More: 5 Tips for Visiting the Virgin Islands National Park with Children
Scenic Drive or Tour
Several roads around St. John have roadside observation points or photo stops giving you panoramic views of Trunk Bay, Maho Bay, Caneel Bay, Coral Bay and others. Roads are well maintained but narrow and sometimes steep. Renting a car and exploring is lots of fun. For those that rather not rent a car taxi operators can show you around. Read more about Island tours.
Parties, Weddings, Picnics
Special use permits are required for organized activities that include ten (10) or more people for events such as weddings, birthday parties, etc. Picnic pavilions and grills are available for all activities. Find the perfect wedding location.
However you choose to explore the Virgin Islands National Park you will undoubtedly leave with unforgettable memories of St. John.