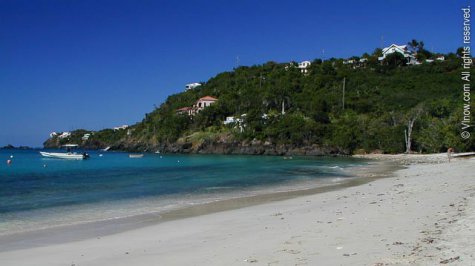 Hull Bay is a tranquil little beach and a favorite with residents on the north side of the island, where it is located. It is usually only lightly populated during the week, primarily with residents and fishermen who use the bay as an anchorage for their small fishing boats. It is common on weekends for families to picnic at Hull Bay. Seagrape trees line the shore, offering shade. Just across the street from Hull Bay is a popular local restaurant and bar. A dive shop is also available just across the street from the beach. Hull Bay is a great choice for those that want to spend a few hours at a quiet, off the beaten path beach.
Beach Features
Swimming
Food Vendors
Bathrooms
Parking Available
Diving & Snorkeling
Boat Dock
Surfing
Map
Located on the Northside
We'd Love Your Feedback on Hull Bay
Your review will not only provide candid feedback, but it will also help others make informed decisions when planning a Virgin Islands Vacation. Thanks, VInow.com
Quiet beach with just a few beachgoers on weekday mornings, a bit more in the afternoon and weekend. The beach is mostly sandy with some pebbles mixed in. Along the shore in the water there are a couple spots with hard sandstone, not conducive to wading but the water is clear so you can easily see them and find a sandy entry point or avoid the rocks. There are a good bit of boats moored in the bay. Water was clear and calm. There was Ok snorkeling running along the sandstone shelf and rocky areas parallel to the shore. Saw various juvenile and medium size fish, eel and a school of squid. Shore has a tree line that provides natural shade. No amenities right on the beach but there is a restaurant/bar and a watersports/surf shop just across the street - a hop, skip and a jump from the beach. Swimming was ok once passed the rocky spots.
Not easy to find but worth the effort
Hull Bay offers not only a quiet, uncrowded atmosphere, but one of the best shore dives for snorkel or scuba. Homer's dive shop is right at the beach and he can set you up with whatever gear you may need, and free advice about how to dive the area. After wards, head to Hull Bay Hideaway for a beer and a great burger. A great way to spend the day.
- Blaze
We were lucky enough to discover Hull Bay while "exploring" St Thomas several years ago. We completely enjoy the fact that it is a little off the beaten track and basically unknown to the tourists (guess I've ruined that). We've attended a fund raiser several years ago on July 4th for a local youth group and had a great time. The water is a little rocky but that only makes it more interesting to snorkel and explore. The locals that we have met there have all been very friendly as well as amazingly helpful the year we locked our keys in our rental car. And Arthur makes the best burgers on the island. We'll be back without a doubt.