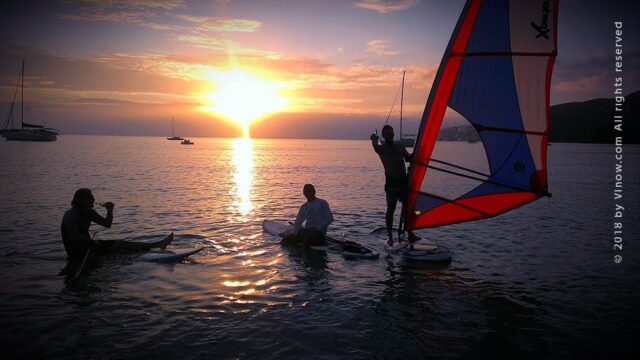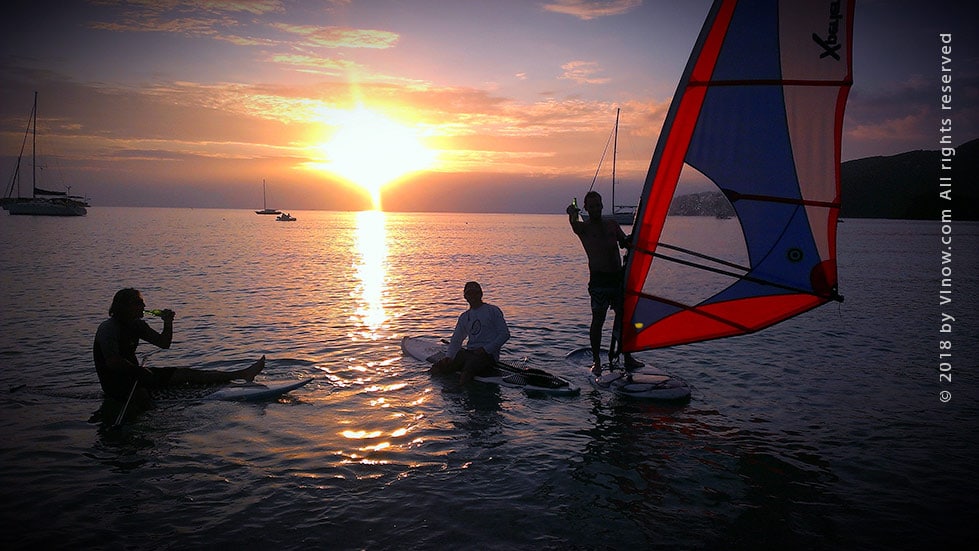 If your enthusiasm for watersports includes some combination of wind, waves, adrenaline, and a board you will be excited to learn of the board sports available in St. Thomas. In this article we will touch on surfing, wind surfing, kite boarding, SUP options, and the most recent sporting trends of flyboarding, e-foiling, foil boarding and wingfoiling. Some boardsports have easy learning curves and with basic instruction you will be on your way. Other boardsports require lessons and a lot of practice. Keep reading to learn more about exciting things to do in St. Thomas that involve boards.
SUP in St. Thomas
SUP stands for stand-up paddle boarding and it is currently one of the most popular boardsports on St. Thomas. You can rent a SUP board at several beaches. There are SUP guides, SUP tours by day and at night, SUP surfing, and even SUP yoga. With SUP you stand on a board that looks a lot like a surfboard and use a paddle to propel yourself through the water. Gliding over the water is awesome. The experience is serene and relaxing, it is also fun and great exercise. While you are out on the water you get a fantastic view of the shoreline. Seeing turtles, rays and fish passing beneath you is an exciting bonus. There have been some SUP races on St. Thomas over the years, but they are not yet annual events. Try SUP on your St. Thomas vacation by renting a board from a beach vendor, signing up for a SUP tour or guided experience, or join a SUP yoga class. SUP has an easy learning curve and can be enjoyed by the whole family.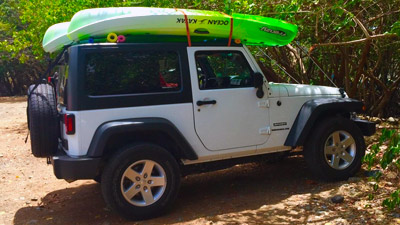 VI Ecotours: Weekly SUP and Kayak Rentals
Explore the waters around St. Thomas independently with your own stand-up paddleboard, single kayak, or double sit-on-top kayak! Pickup your SUP board or kayak from the VI Ecotours office at the Mangrove Lagoon between 9:00 am and 5:00 pm. Foam car top supports and ratchet straps provided so that the equipment can be easily loaded onto sedan type, Jeep, or van vehicles. Delivery is available for an additional fee. Reserve your kayak or SUP board today! Costs: SUP Board $245/week. Single Kayak $195/week. Double Kayak $245/week.
Book Now
Surfing on St. Thomas
St. Thomas has a few good surf spots and a small community of surfers. The most consistent waves are between November and February on the north facing beaches; and there are occasional summer swells, around August-September, on south facing shores. Surf tourism in St. Thomas is limited but there are a couple surf guides and its possible to rent surf boards. Learn More about Surfing in the Virgin Islands
St. Thomas Flyboarding
If you are looking for an adrenaline rush, an exhilarating ride, and the opportunity to hone your inner Iron Man, look no further than flyboarding, also known as hydroflying. Flyboarding is an exciting water sport that will take you to new heights – literally! It is a new extreme sport invented in 2012. Here is how it works: you will stand on a board that has boots connected to a long hose. Water is forced under pressure to the boots, and jet nozzles underneath the boots will have you flying in the air above the water. Flyboarding is available in St. Thomas at Lindberg Bay. To get started, flyboarding requires some basic instruction. Flyboarding athletes can do acrobatic moves on their boards, something you can aspire to with lots of practice.
Kiteboarding on St. Thomas
A board plus a power kite, and you have the sport of kiteboarding. Kiteboarding on St. Thomas has gained popularity amongst local athletes in recent years. Kiteboarding relies heavily on favorable wind conditions, the popular locales for kiteboarders are therefore the windier beaches on the East End of St. Thomas. A kiteboarder stands on a board and uses a large kite to harness the power of the wind. With the right conditions this power allows the kiteboarder to glide across the water and sometimes through the air. Kiteboarding lessons are available on St. Thomas.
E-Foiling and Foil Wings
One of the newest trends in surf-sports are in the use of hydrofoil technology. In St. Thomas you can have fun gliding across the water using an electric powered hydrofoil. It has an easy learning curve, plus there are different settings to allow for riders from novice to experienced. Consider e-foiling in St. Thomas and see why this watersport is fast gaining popularity. Another new trend in the boardsports world is foil wings, you can use them for wing foiling, wing surfing or with a SUP board. These sports include riding a foil board or a regular SUP board while carrying a hand-held inflatable sail.
Windsurfing on St. Thomas
St. Thomas has great windsurfing conditions: warm weather, beautiful water, and periods of gusty trade winds at beaches on the East End of the island. Beaches like Bluebeards Beach, Vessup Bay and Sapphire Beach. While windsurfing has waned in popularity in recent decades, it is a fun sport and its available in St. Thomas. West Indies Watersports on Vessup Bay keeps windsurfing alive in St. Thomas with windsurfer rentals. (They also offer kiteboard lessons, surfboard rentals, small watercraft rentals and foil wings.)
Wakeboarding, Skimboarding, Bodyboarding
Wakeboarding in St. Thomas is a fun activity. A few boat trips and term charters offer wakeboarding. For this watersport your feet are strapped to a board and you hold onto a tow rope while a speedboat pulls you along. It takes practice. Skilled athletes can do amazing stunts and tricks on their wakeboards. Bodyboarding and skimboarding are popular with a small group of residents when conditions are favorable.
Recent News: The International Olympic Committee (IOC) voted to include Surfing (and Skateboarding) in the 2020 (postponed to 2021) Summer Olympics in Tokyo, Japan. With the nod of the IOC maybe we will see surfing and other related board sports getting a boost in general popularity.