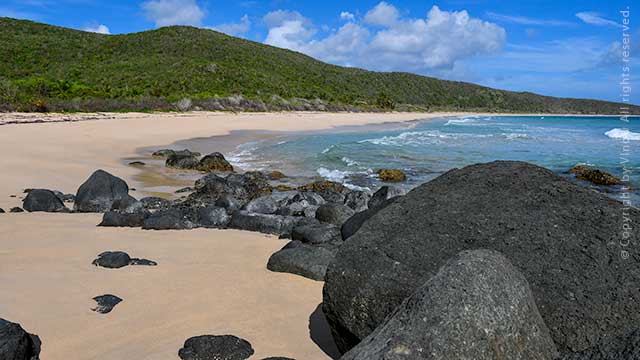 The islands of Culebra and Vieques are part of Puerto Rico and known by the nickname Spanish Virgin Islands. They are located between the U.S. Virgin Islands and Puerto Rico. Culebra is 10 square miles and located about 25 nautical miles west of St. Thomas. Vieques is 52 square miles and around 39 miles from St. Thomas. Near Culebra there are small islets, a little over a dozen of them, a few of which are Culebrita, Luis Pena, Norte, Ballena, Geniquí, Tiburń, Sombrero, Matojo, Colorado, and Las Hermanas.
The Spanish Virgin Islands are laid back and charming. You can visit the small towns, beautiful beaches like Flamenco on Culebra, the Caribbean's oldest lighthouse on Culebrita, Vieques' famous bio-luminescent Mosquito Bay, and cruise by the small islets. From St. Thomas you can explore Culebra by boat on a day trip. Multi-day charters will allow you to visit both Culebra and Vieques. You can also fly to the islands from St. Thomas. Regular daily flights are available from St. Thomas through San Juan Puerto Rico, and private air charters can take you directly.
Featured Spanish Virgin Islands
St. Thomas Boat Rental
stthomasboatrental.com | Facebook
Visit the Spanish Virgin Islands including stops at Culebra and Culebrita! Start from Sapphire Beach Marina at 8am or St John at 7:45am with a return time around 4:30pm. $195 includes your ride over, customs and open bar. After clearing customs, we enjoy a short visit of historic downtown Culebra. Then head over to beautiful Flamenco Beach where you have enough time to stroll down the white sandy beach and enjoy lunch from your choice of many vendors. We finish the day on Culebrita with a lazy afternoon relaxing on the beach or a short hike up to the lighthouse. From Culebrita it's about an hour and 10 minutes back to home port.
Where are the Spanish Virgin Islands?
Culebra is pristine and unpretentious. One quarter of the island is protected by the Culebra National Wildlife Refuge. The island has beautiful beaches including Flamenco, Zoni, Tamarindo and Melones. The main town of Dewey is fun to visit and offers good restaurants and watering holes. Read More