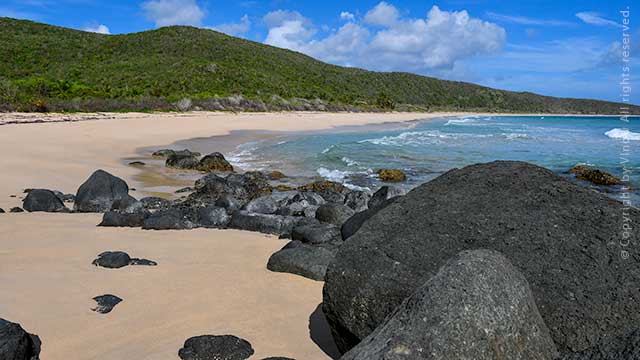 St. Thomas is a great base for exploring neighboring islands. One of these possible island-hopping day trips is to Culebra. We are going to briefly look at where Culebra is located, what there is to see in the Spanish Virgin Islands and give boating options for visiting Culebra from St. Thomas. We also include an article about Culebra. Let's island hop to the Spanish Virgin Islands.
The nickname Spanish Virgin Islands refers to the islands of Culebra and Vieques, both are part of Puerto Rico. Culebra and Vieques are geographically located between the US Virgin Islands and Puerto Rico. Culebra is 10 square miles and about 25 nautical miles west of St. Thomas. Vieques is 52 square miles and around 39 miles from St. Thomas. Near Culebra there are many small islets and cays, a little over two dozen of them. They include Alcarraza, Cayo Ballena, Cayo Botella, Cayo de Luis Peña, Cayo del Agua, Cayo Lobito, Cayo Lobo, Cayo Matojo, Cayo Norte, Cayo Pirata, Cayo Raton, Cayo Sombrerito, Cayo Tiburon, Cayo Verde, Cayo Yerba, Cayos Geniqui, El Ancon, El Mono, Isla Culebrita, Las Hermanas
Los Gemelos, Pela, Pelaita, Piedra Stevens, Roca Culumna, Roca Speck, Cayo Tuna, Roca Lavador and Cayo Botijuela.
The Spanish Virgin Islands are laid back and charming. You can visit the small towns, beautiful beaches like Flamenco on Culebra, the Caribbean's oldest lighthouse on Culebrita, Vieques' famous bio-luminescent Mosquito Bay, and cruise by the small islets. From St. Thomas you can explore Culebra and Culebrita by boat on a day trip.
Where are the Spanish Virgin Islands?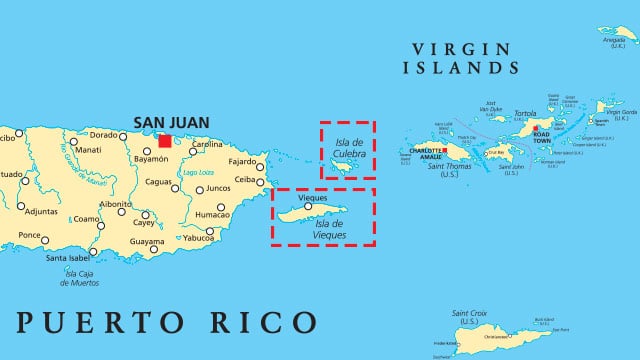 About Isla de Culebra
Culebra is pristine and unpretentious. One quarter of the island is protected by the Culebra National Wildlife Refuge. The island has beautiful beaches including Playa Flamenco, Playa Zoni, Playa Tamarindo and Playa Melones (playa is the Spanish word for beach). The main town of Dewey is fun to visit and offers good restaurants and watering holes. Take a look at the Culebra article below for more information and photos.
Related Reading: Visiting Isla de Culebra from St. Thomas.