St. Thomas in the US Virgin Islands offers an assortment of watersports, but what if you want watersports and a tour combined. That is what we are covering, water tours and adventures in St. Thomas. Perhaps you are thinking you want to be on the water and have a guide with you to pick the best snorkeling spots and point out interesting things. That type of tour is available. Or maybe you want to customize your day to have a guide take you on a hike followed by some watersports. Adventure tour companies in St. Thomas offer that too. If you are looking for a unique on-the-water-tour in St. Thomas, consider an adrenaline pumping jet boat tour, or a unique and entertaining cycleboat party tour. In recent years watersports adventure tours have gained popularity in St. Thomas. Here are some great options to consider during your vacation or cruise to St. Thomas.
If you're looking for a truly unique and exciting boat tour, be sure to come experience the VI's first Cycleboat. It's a boat, a bike and a bar, all in one! We offer two tours, and a sunset cruise. Our 2-hour tour travels along the Charlotte Amalie Harbor where you'll take in the beautiful sights while listening to your favorite party tunes and enjoying our fresh Rum Punch. Our 3-hour trip to Water Island allows you to swim, snorkel, eat lunch and bar hop. The boat holds 16 people. Book a seat today or rent the entire boat. DRINK. PEDAL. PARTY! with St. Thomas Cycleboats.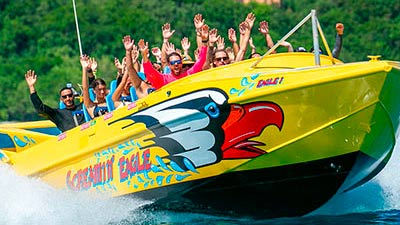 VI Jet Boat Tours will take you for one of the most amusing spins in the world, where thrill is everything, and staying dry is not an option. Screamin' Eagle is an awesome 750 HP turbo-charged jet boat. You will experience fun commentary, and beautiful scenery with views of neighboring islands and cays. You'll race at exhilarating high speeds in crystal-clear water and have a blast with breathtaking 180-degree spins, wild fishtails and awesome power brake stops that will have you yelling for more! The Screamin' Eagle is a sightseeing thrill-ride of a lifetime – an exciting and memorable way to experience beautiful St. Thomas.
Book Now