St. Thomas Restaurant Guide
Restaurant choices in St. Thomas are largely grouped around three cuisines: Caribbean, American and Multi-Cuisine. Some restaurants focus on seafood, as one might expect on a Caribbean island; but just as many focus on burgers. Continental cuisine, Italian and pizza are easy to find. There are a few Mediterranean, BBQ, steakhouse, and Sushi restaurants. Mixed in with these are a Spanish restaurant, a German, a Polish, Mexican, Thai, an Irish pub, and a couple vegetarian, Latin and Chinese restaurants. Submit Restaurant Updates
Tropical Ambiance
For tropical ambiance choose a restaurant with a water view, perhaps even on the beach! If you've been on the beach all day and prefer an air-conditioned restaurant – they are available too. Grab a bite at a casual spot, or enjoy fine dining. Some restaurants are also bars and offer happy hour specials. Live entertainment of piano, guitar, vocals, or a band are offered at various places. Caribbean shows are a favorite at a couple resort restaurants. Also, Sunday brunch is popular on St. Thomas so get ready for bottomless mimosas… maybe with mango juice or some other tropical twist.
Try some Caribbean Dishes
St. Thomas's local flavors are unique to the Caribbean region. The island has been a U.S. territory for 100 years, and that influence is visible. The island's residents however are mostly Caribbean people; and the island's history and culture are distinctly Caribbean. Included in the culture is a Caribbean cuisine.
Experience what is unique to the island by trying a few Caribbean dishes while visiting St. Thomas. Enjoy entrees of salt fish, fish soups, conch and rice, kallaloo, fried fish with fungi and plantain, and bull-foot soup. And try delicious deserts and drinks made from coconut, mango, guava, soursop and other tropical fruit.
Food Events on St. Thomas
Attend a food event while on vacation in St. Thomas. The most popular food event, that is focused on Caribbean cuisine, is the annual Carnival Food Fair in April. Competitions and food cook offs are all the rage right now. There is King of the Wing, a Slider Competition, a Chili Cookoff, Chowder Cookoff and a Coal Pot Cookoff! Several non-profits host food events as fundraisers including: Montessori International Night and Ultimate Flavors of the Islands, which supports youth culinary programs. St. Thomas' food truck scene gets to shine a couple times a year with Food Truck Fete events. Two Agriculture Fairs highlight locally grown fruits and vegetables as well as local dishes. Visit the Event's Calendar for more information and to see what food event is going on while you are on island.
Take Home some Local Food Products
Local products that we love, that you might love to take home with you include a large variety of hot sauces from mild and sweet, to hot, hot, hot. The islands are known for rum! Cruzan Rum is the popular choice. It is made on St. Croix, the sister island to St. Thomas. Also, Captain Morgan's Rum is produced in St. Croix. You can pick up packages of bush tea in some gift shops, and with patience might find boxes of rum balls and rum cakes. Many of the tropical jams, marmalades, drinks, and candies made from tropical fruit, and known to St. Thomas' residents as special treats, are artisanal. In the homes of culture bearers that continue the community's food traditions; batches of guava berry rum are produced, along with coconut tarts, guava jam, sorrel drink, peanut punch, and other delicacies. Around the holidays mostly, pop-up road side stands with these homemade treats spring up. Sometimes you can find them at farmer's markets, or at fairs like the Carnival Food Fair and Agriculture Fairs.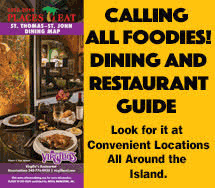 Tiping
Tip for wait staff is usually 18% of total bill. Parties of 6 or greater often have tip automatically added to the bill by the restaurant; the 6 party tip added is usually between 15-18%.