Island hop between the big island of St. Croix and its sister island St. Thomas on a ferry. One ferry operator offers service for this route. The route is Charlotte Amalie, St. Thomas to Gallows Bay, St. Croix. St. Croix is 42 miles away from St. Thomas, and the ferry ride takes 2 hours and 20 minutes.
Ferry Route & Docking Locations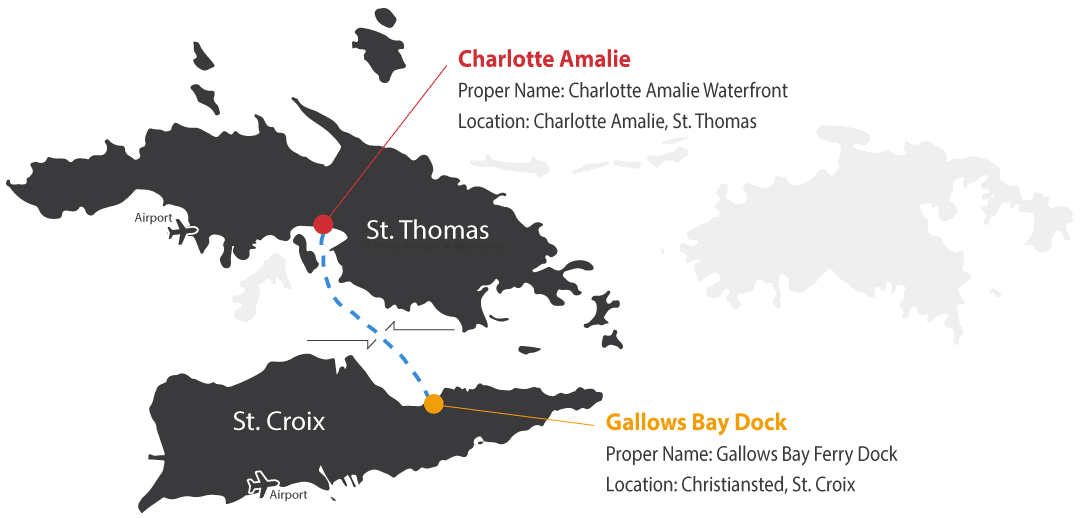 Telephone: (340) 473-1322
Docking Location St. Croix: Gallows Bay Dock
Docking Location St. Thomas: Blyden Terminal
Travel Time: 2 hours 20 minutes
Note: The ferry is running on Fridays, Saturdays, Sundays, and Mondays. Face masks are required for all passengers.
Gallows Bay → Charlotte Amalie
Charlotte Amalie → Gallows Bay
Luggage/Box

See Notes Below
Note: Arrive 30 minutes before departure; check in ends fifteen minutes before departure. Coast Guard requires ID or birth papers for all passengers including children. On St. Thomas, at the Blyden Ferry Terminal, purchase tickets at the Smith's Ferry Counter. On St. Croix, at Gallows Bay, purchase tickets at the Gallows Bay Marine. Tickets can be purchased online also. Carry-On Baggage Allowance: 2 pieces of free carry-on per passenger. Standard baggage sizes: one bag (maximum dimensions 21.5″x15.5″x9″) and one smaller personal item. Additional bags are $25 when paid online. Maximum weight of both free carry-on items: 50 lbs. Large and overweight items may be subject to additional fees. Accepts cargo, visit website for details.