Red Hook, located on the East End of St. Thomas, is a bustling area with shops, offices, grocery stores, bars and restaurants. Several marinas in the area make it a central boating community many day charters, fishing trips and boat rental companies are located at these marinas. The ferry dock is also in Red Hook, ferries are available to St. John and the British Virgin Islands.
VIRGIN ISLANDS VACATION PLANNING PACKET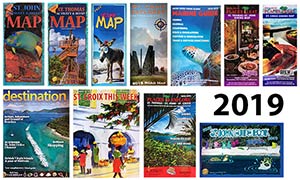 This material covers where to stay, fun things to do, culture, local events, beach guides, how to get around, plants and animals, history, tips, things to see, art galleries, shopping and so much more.