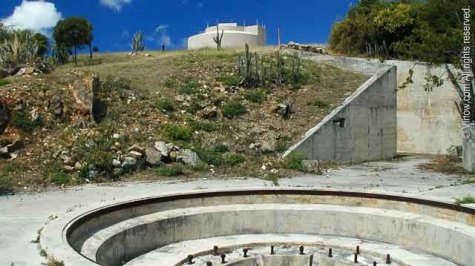 Fort Segarra is an underground fort, part of the United States' defense strategies during World War II. Its purpose was to help protect a submarine base on St. Thomas. The war ended before its completion and the project was subsequently abandoned. Visitors to Water Island can view gun emplacements, walk inside tunnels and visit underground rooms. The observation deck on the roof of the fort offers a great panoramic view of Water Island, the ocean and neighboring islands.
Map
We'd Love Your Feedback on Fort Segarra
Your review will not only provide candid feedback, but it will also help others make informed decisions when planning a Virgin Islands Vacation. Thanks, VInow.com
It was pretty neat checking out the fort and other remains around the island. The fort and nearby gun emplacement are easy to get to and explore. Great view from the top of the fort of Water Island and the ocean. When hiking around the island coming upon other fortifications, like rooms built into hillsides, felt a bit like being on an episode of LOST and finding some new structure. A few signs explaining what things are would have been great but didn't see any. The fort and other parts aren't maintained so entering rooms should definitely be done with caution and a flash light is needed for some rooms.