St. Thomas Carnival Troupes
Please Sign in / Register to take part in discussions about the Virgin Islands.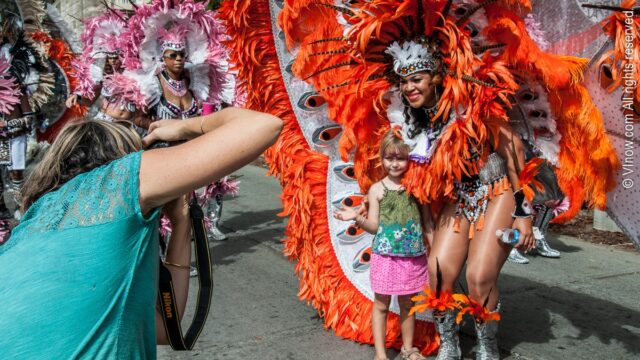 The VI Carnival parade in St. Thomas is scheduled for April 28th, 2018 on Main Street, Charlotte Amalie. Do you want to sit in the sidelines, watch and take photos of the parade; or do you want to get in on the action and "play mas" yourself? If you want to be in the parade you will need to join a troupe. Here is a selection of troupes and their contact information.
St. Thomas Carnival Troupes
Euphoria Carnival Troupe
Contact: (340) 244-4234
Email: euphoriacarnivaltroupe@gmail.com
Application: On-line | Website | Facebook
Infernos Carnival Troupe
Phone: (340) 690-0378
Email: infernos_inc@hotmail.com
Application: On-line | Website | Facebook
Elskoe and Associates
Phone: (340) 998-4085
Email: sandyl801@yahoo.com
Application: Contact to Apply | Facebook
Hugga Bunch
Phone: (340) 690-4442
Email: huggabunchcarnivaltroupe@yahoo.com
Application: Contact to Apply | Website | Facebook
Indian Troupe
Phone: (340) 514-5665
Email: opiataino@yahoo.com
Application: Contact to Apply | Website | Facebook
Real Mas!
Phone: (340) 776-4486
Email: real_mas09@yahoo.com
Application: Contact to Apply | Facebook
Intrique Carnival Troupe
Application: Contact to Apply | Facebook
Eagles Carnival Troupe
Phone: (340) 690-3077
Phone: (340) 998-1715
Application: Contact to Apply
Troupe Updates
---
Posted : February 8, 2018 10:24 am