St. John: Sailing & Powerboat Charters
Going on a charter is often the highlight of vacations to St. John. Enjoy the wonderful weather, beautiful waters and the service of professional and knowledgeable captains and crew. Sail or motor into quiet coves, snorkel at beautiful reefs and just bask in the delightfully warm sun and tropical breezes. Or take a sunset sail and enjoy the tranquil beauty and romance of Caribbean evenings. Many charter boats are 6-packs, holding a maximum of 6 passengers. There are larger boats that can accommodate groups. Charters are available in ½ day trips, full day, sunset sails, dinner cruises and also overnight trips or Term Charters. Prices range from about $50 to $150 a person depending on charter and length of charter. Amenities vary but might include open bar, lunch, snorkel gear, floats and other water toys. Visit the featured charters below!
Filter:
St. John offers rest, relaxation and an adequate amount of sporting activities. Plan the activities you would like to do most and have a great vacation!
National Geographic Trails Illustrated St. John Map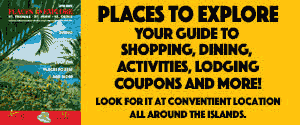 Virgin Islands Newsletter Signup
Sign up now for our FREE Virgin Islands Now Newsletter and we will email you regular updates on what's happening in the Virgin Islands & on VInow.com. You can unsubscribe at any time. Simply fill in the form below.
×