The United States bought the Virgin Islands in 1917. In the last 86 years under the American flag the islands have seen a change in the economy from a historically agricultural economy based on sugar and cotton production to tourism and industry, an increase in population, advancement in technology, local elections vs. appointment of leaders, the building of fast food spots and other American businesses and a great many other changes. Before America bought the islands, the flag that flew was the Dannebrog of Denmark. It flew for some 250 years over the Danish West Indies! (Danish West Indies is today the U.S.V.I.)
"Where are the traces of the Danes?" If one considers that Denmark ruled these islands for 250 years it is fair to reason that perhaps one would find descendants, traces of the Danish language, customs in food preparation, perhaps remnants of the language. Where can you find the Danish influences in today's U.S.V.I.?
You will find it in the islands' history and in historical buildings, primarily in buildings like the Forts in Charlotte Amalie, Christiansted and Frederiksted. They are reminders of the Danish militias presence years ago. Sugar mills scattered across all the islands are evidence of the Danish plantations that existed. Streets bear Danish names; Main Street in Charlotte Amalie is Dronningonsgade meaning Queen's Street. In Christiansted, St. Croix, you have Kongensgade or Kings Street and Kirkegade or Church Street. The architecture in these towns is strongly influenced by the Danes as well. The "streets of stairs' in Charlotte Amalie that climb the hillside around the harbor, the picturesque churches and homes that are found on the same hillsides. Grand welcoming arm staircases grace many old buildings, as does beautiful wrought iron work on verandas and gates.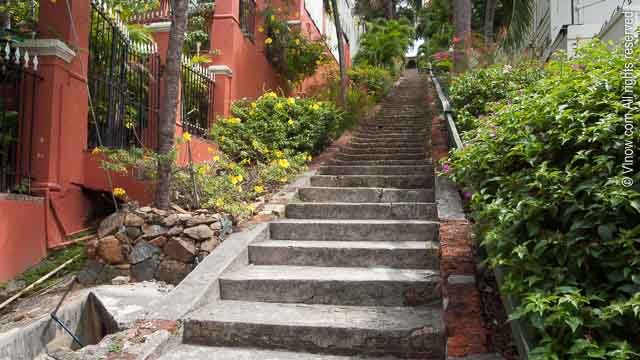 The names of the streets and old buildings remain, however what about things that are more cultural, language for example or celebrations like Carnival. In 1917 when the U.S. took over the islands, the population of the islands already for the most part spoke English or Creolized English. And credit for Carnival celebrations seems to go to the Africans and French.
The fact is the Danes were never the majority in the islands population. And it is suspected by historians that the Danish language was never wildly spoken in the Danish West Indies. An early eighteenth century census indicates that of 148 white planters only 17 were Danes. And in 1837 another census reports of 1832 white planters only 250 were Danes. The islands' planters were English, Dutch, French, Irish, Swedish and German. There were also a few planters from neighboring Puerto Rico and St. Kitts. In the censuses of the mid 1800s the largest group of planters were native-born whites called creoles .
The history of the islands is rich and interesting, it includes influences from as near as a neighboring island to as far as other continents.