Christiansted, one of the two towns on the big island of St. Croix, attracts residents and visitors alike. History buffs will enjoy the Christiansted National Historic Site which includes several buildings of interest like Fort Christiansvaern and the Customs House. From the boardwalk you can take in a beautiful view of the ocean and Protestant Cay. There are restaurants, dive and charter operators, and bars along the boardwalk and throughout town. And the other big attraction in Christiansted is shopping!
Shopping Day in Christiansted
The shopping scene in Christiansted offers a nice variety of boutiques with handmade, artisanal items. Christiansted is laid out in a grid and you can easily cover the shopping area of town in a few hours; or spend the day and explore the shops, talk to the artists, visit historical sites and have lunch. That was my plan, a day in Christiansted.
As I started out, I saw a store named, Chaney Chicks & Island Gifts along Kings Alley. The name caught my eye, so in I went. A copy of the magazine "Beachcombing" sat on the table right at the entrance. An article about sea glass was featured on the cover. The magazine was in the right place, the shop focuses on jewelry made of items found while beachcombing like sea glass, ceramic pottery shards (called chaney on St. Croix), and even a few sea marbles.
These island gems are parts of objects from the past like glass bottles, ceramic bowls and plates, and bottle stoppers. The parts and pieces are unearthed today when people move soil, when building or gardening for example, or the pieces are found along shorelines and beaches.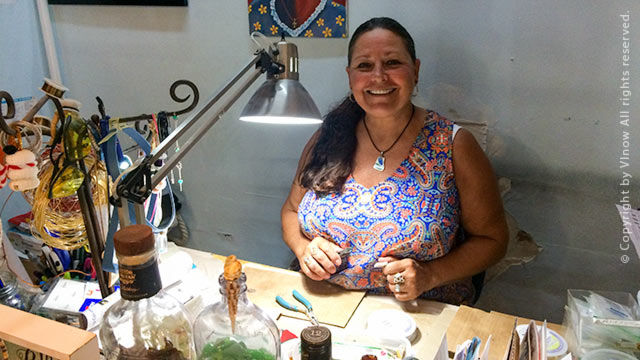 My next stop was Eden South located at No. 3 Company Street. It is housed in a lovely traditional Caribbean house, brightly painted in yellow. I knew the building had a story and hoped the goodies inside would too. And I was right! Locally made hot sauces and fruit preserves lined beautiful wood shelves. Framed black and white photos sat on West Indian style tables. There was a display of small market baskets, and a large one. A table of books by local authors, shirts with island motifs, and small pieces of artwork. I was greeted and told the history of the house, about the people in the old photos, and about the artisans whose products fill the shop. Eden South is a boutique of authentic Crucian treats!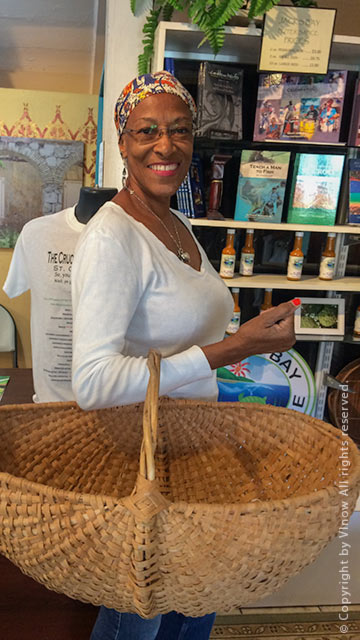 In From the Gecko I found an assortment of items including unique clothing, and a selection of locally made jewelry by several artists. A variety of beautiful earring designs filled the case. One of the collections was named the "Maria Collection" and the artist made them by incorporating metals and items collected from around her damaged home after Hurricane Maria.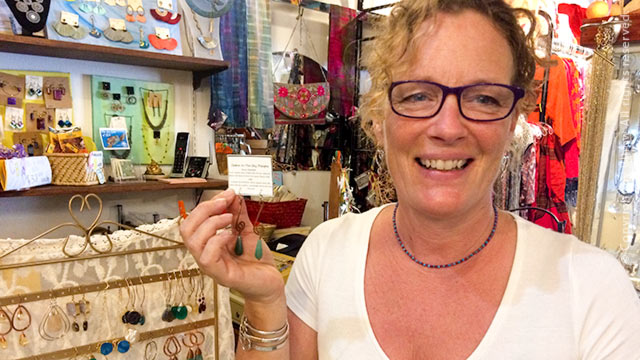 As I walked by Jolly Treasures in Pan Am Pavilion the t-shirts in the window suggested that I might not find locally made items there and I initially walked past, but I turned back, and was so happy that I did. Sitting at the counter was Editha Baptiste, her hands busy at work. She was making Caribbean Flip Dolls. Her shop is a mix of the typical souvenirs like magnets, shot glasses and t-shirts; plus, items that she makes herself. She is a seamstress. There is clothing for children and adults made with African and Madras fabrics. In the 18th century, on French Caribbean islands, Madras was popularly used in women's clothing and head-wraps. Today the fabric is incorporated into many traditional wear outfits throughout the Caribbean including the U.S. Virgin Islands. Ms. Baptiste also makes and sells mocko jumbie dolls and ornaments, plus the Caribbean flip dolls. Mocko jumbies are traditional stilt dancers. And flip dolls are two dolls in one – just flip the large skirt to reveal the 2nd doll.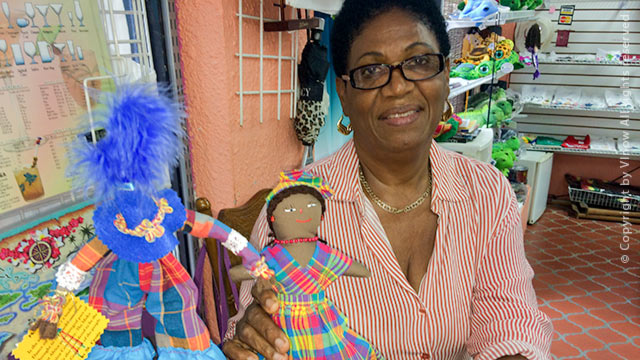 St. Croix is known for its hook bracelets. Most residents wear at least a couple, and some wear a stack of them together. The Crucian bracelets are recognizable and distinct. Several artists have shops in Christiansted making and selling hook bracelets. I stopped by Crucian Gold on Strand Street. Their selection includes various collections such as traditional hooks, commemorative bracelets for historic events in the USVI, and a collection of bracelets with chaney.
While I spent the whole day in Christiansted as I planned, I only visited a few of the shops and sites. A great deal of my time was spent speaking with the artists and salespeople. Try it, they are eager to share what their items mean and their vision for locally made souvenirs. PS: I did break up the shopping to get lunch and visit Fort Christiansvearn and the Customs House.
Look out for Art Thursday events on St. Croix. They take place once a month between November and May, on the 3rd Thursday of the month from 5 PM to 8 PM. Included in the event is an art walk, live music, complimentary refreshments and over 15 studios, galleries and shops open into the evening for you to visit. The event takes place in Christiansted.