St. Croix welcomed its first cruise ship of the year earlier this month. Royal Caribbean's Explorer of the Seas docked at Ann E. Abramson Marine Facility in Frederiksted on January 5th, 2009. In the days following, Disney Magic and The World also called on St. Croix and later this month so will Maasdam, Journey and Crystal Symphony. The first ship of the season, the Regatta of Oceania Cruises, visited in November 2008. These ships mark the return of regularly scheduled cruise calls to St. Croix after a long break in visits.
Over the past year and a half, the Government of the U.S. Virgin Islands worked very diligently to encourage cruise lines to add St. Croix to their itineraries and was successful in their effort. Numerous cruise ship companies are sending their ships to St. Croix in 2009 and 2010 including Royal Caribbean, Celebrity Cruises, Disney Cruise Line, Holland America, Azamara Cruises and Seabourn Cruises.
Passengers visiting St. Croix by cruise ship arrive in Frederiksted. They exit onto the pier that leads right to Frederiksted's waterfront, where recent restorations include neat walkways and benches tucked among trees and flowering plants. Fort Frederik, a National Historic Landmark, watches over Frederiksted as it has since the 1700's. It is also in walking distance of the pier. Frederiksted has narrow streets flanked with old buildings of 17th and 18th century Danish and Victorian style. Some of the buildings have been restored and house offices and businesses. It is a quiet town but its activity level rises on cruise ship days. Cruise ship passengers can purchase souvenirs from vendors at the end of the pier. They can take a stroll and enjoy lovely views of the ocean. Frederiksted Beach is just a hop, skip and a jump away and it is a nice beach for a swim. And of course outside of Frederiksted there is a whole island to explore.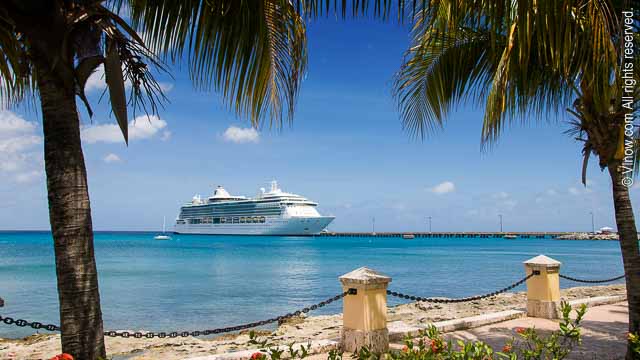 St. Croix offers nature activities like a visit to the Botanical Gardens, eco-hikes and horseback riding through the forest. It also offers water sports like sailing, snorkeling, fishing, parasailing and some of the best scuba diving in the area. Play a round of golf or head to the beach. History buffs can spend the whole day, in fact a few days, exploring sites like Fort Frederik, Fort Christiansvaern, Estate Whim Plantation and historic homes and churches. St. Croix is known for its Cruzan Rum, tours of the refinery are possible with samples after the tour! St. Croix boasts three National Parks; Christiansted National Historic Site, Salt River Bay National Historical Park and Ecological Preserve and Buck Island Reef National Monument. There is a lot to see and do while in port for the day. Learn more about St. Croix in the St. Croix Guide.