Frenchtown is a quaint, French, fishing village nestled in Charlotte Amalie, St. Thomas. The main road running through the seaside village is "Rue de St. Barthelemy". One of the favorite local watering holes is "La Petite Fenetre". Traditional Caribbean wood houses cling to the hillsides, fishermen clean their catch as their fishing boats bob in the harbor nearby, men sit on the front steps of houses catching up on news and gossip, a variety of restaurants cater to visitors and residents, and a Catholic church looks over it all.
Most of the community in Frenchtown, which is also known by the name Carénage, can trace their ancestors to the French Caribbean island of St. Barthelemy (St. Barths) because their parents, grandparents or great grand parents came from that island to St. Thomas. A few residents were themselves born in St. Barths and moved to St. Thomas as children or young adults. Trade and migration between St. Barths and St. Thomas are well known through oral history and substantiated through historical records from the 1800s and 1900s. Census documents, arrival records and old newspapers list boats, goods and people from St. Barths coming to St. Thomas.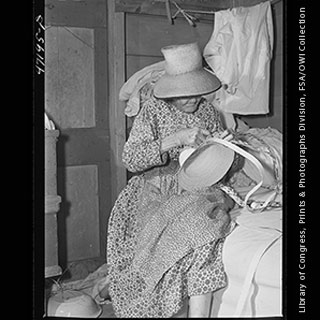 The early migrants came to St. Thomas looking for better work opportunities, most were men. In time, their relatives and friends joined them, as did their wives and children, and soon they had formed a small community. Their differences when compared to the existing St. Thomas population at the time were several, and it would take at least a few generations for them to assimilate and be accepted. Differences included race, nationality, language, dress, education, and occupation.
Today, the French community is well established in St. Thomas. With over 150 years of history on the island they celebrate both their French roots and their ties to the Virgin Islands. To ensure their story is preserved and to allow them to share it with everyone they built a small museum, the French Heritage Museum.
French Heritage Museum, St. Thomas
The French Heritage Museum on St. Thomas opened in 2004 on French National Day (also known as Quatorze Juillet and Bastille Day). The little museum could overflow with the history and pride of the community it represents. Many of the items on display were donated or on loan from community members.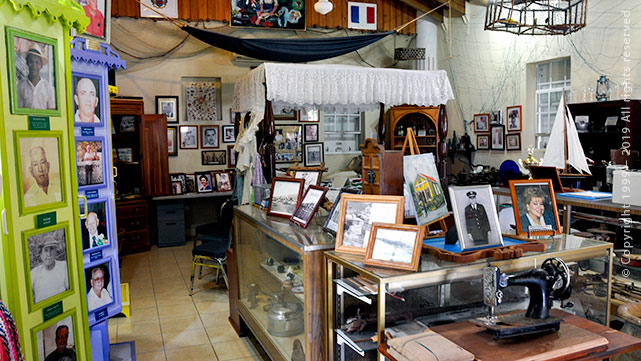 Artifacts on display include items from the straw industry; hats, baskets, clutches and types of straw braids. There are displays showcasing their fishing traditions with items such as handmade fish pots, nets, weights, and models. There is a large mahogany four-posted bed, chamber pots, gooses (for ironing), and other items from day-to-day living. Photographs of residents fill tables and cases. A wall of veterans pays respect to members of the Frenchtown community who died while serving in the U.S. military. A display shows women's traditional wear; a simple dress with an apron and a headpiece called a caleche.
The French of St. Barths were deeply vested in the Catholic church on their home island, and once on St. Thomas were sure to honor their beliefs by constructing a house of worship in their village, the St. Anne's Chapel. The history of the church and a pew are featured in the museum.
In 2007, the Frenchtown Civic Organization joined hands with the Committee for the Betterment of Carénage to dedicate to the museum a two-room house that was donated by the family of the late Louis Phillipe Greaux.
The house was moved from its location, to its new home right next to the existing museum. It was restored and serves as an example of the traditional houses of Frenchtown. One room served as a bedroom, and the second room as a living area by day and a sleeping area for children by night. It is authentically furnished with sparse pieces: a bed, a table, a bench, a hammock, and a few wall hangings of a religious nature.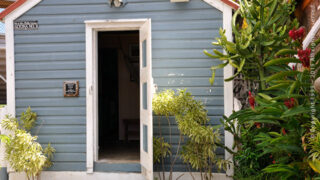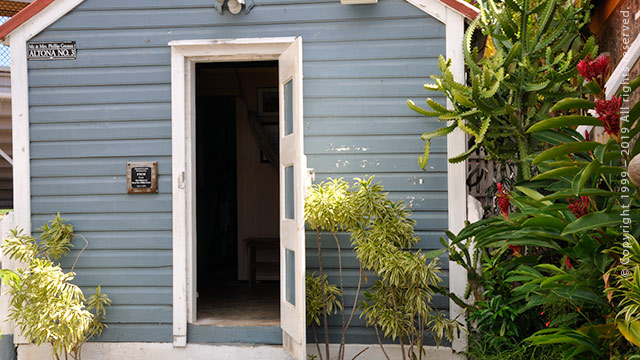 Louis Phillipe Greaux House
Note: At the time of writing this article, June 2019, the traditional house is closed due to hurricane damages. The museum is open.
Be sure to visit Frenchtown and the French Heritage Museum while on St. Thomas. Make a morning of it, Frenchtown is an interesting area to take a walk-about, it is a pretty area for photography, and there are great spots to have lunch. The museum is small but filled with items. Strike up a conversation with the museum guide, they can share with you what items were used for and tell stories about the community.
The museum is in located just across from "La Petite Fenetre" bar, and behind the Joseph Aubain Ballpark. It is open from 10 AM to 2 PM. Monday through Friday excluding federal holidays. The phone number is (340) 714-2583. The museum is a non-profit. A donation is encouraged for your visit.
Editor's Note: The French people of St. Barths that settled on St. Thomas formed two communities, one in Frenchtown and another on the Northside of St. Thomas. This article focuses on the settlement in Frenchtown.