The Texas Society Chili Cook Off offers tasty chili, loads of fun, a wonderful setting and great music!
A Chili Cook Off with live entertainment, games for adults and children, lip smacking chili, cold drinks AND on the Beach! How fun does that sound? Plenty fun!
Chili Appreciation Society International (CASI)
The Texas Society of the Virgin Islands is a pod of the organization Chili Appreciation Society International (CASI). CASI's mission is to promote chili and to raise money for charity. They are involved in over 500 chili cook offs each year and raise over 1 million annually for various local charities. CASI organizes the Grand Daddy of Chili Cook Offs, the annual Terlingua International Chili Championship which takes place the first Saturday of November in Terlingua, Texas.
The Texas Society of the Virgin Islands
The Texas Society of the Virgin Islands is a non-profit organization dedicated to raising funds for local charities. Wondering how much of a Texan you have to be to participate? We caught up with Lori Abbotts, Pepper Popper (or VP) of the Texas Society of the Virgin Islands and asked her. Lori answered; "Anyone is welcome to join the stirring committee or participate as a cook. We like to say we will welcome anyone from Texas, has been to Texas, has flown over Texas, can spell Texas… In other words, we won't refuse help from anyone who wants to join us in putting on this huge event."
A huge event indeed! It started with five Texans back in 1984 in a backyard on the east end of St. Thomas and has grown to 6000+ spectators/chili tasters! Over the years it has moved to various locations on St. Thomas including For the Birds, Magens Bay, Brewer's Beach, Sapphire Beach and Bolongo Bay and has gathered a following. It's a hugely popular event for residents and visitors alike!
Around mid-July residents start looking for the signs and advertisements with the date of the Chili Cook Off. Chiliheads have already been planning their entries, how to decorate their booths, costumes, type of chili; and come the day of the Cook Off they show awesome showmanship and provide tasty eating!
Booths are sponsored by individuals, teams, restaurants, hotels, organizations, and not just from the USVI! A few teams come by boat from Puerto Rico and the British Virgin Islands to compete, and some folks come down from Texas! You can get mild chili, hot chili, super hot chili, vegetarian, even lobster chili. This year, a record number of chili pots, 60+ to sample!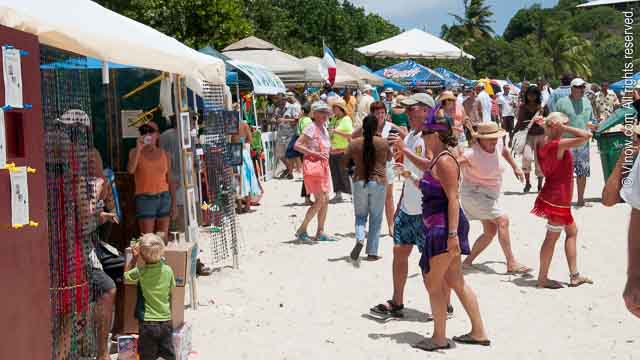 Chili Tasting
Chili lovers buy tickets, 3 tastes for a dollar, and can go around to the various booths (after the judging has been completed) and have their fill.
Live Music
Past line-ups have included:
Nicky Russell
Bertha Boschulte School Steel Pan Band
The Outlaws from St. Croix
Barefoot Davis Band.
Games
Adults can join a game of tug of war and children participate in games like watermelon seed spitting contests, balloon toss and piñatas.
Chili Cook Off Rules
For the competition the society requires that all chili sauces be made from scratch and a entrance fee is required for every contestant.
Participants start setting up small booths and tents as early as 6:00 am from which they will serve their chili with a chance to win a prize. All competition chili must be made on the beach and all ingredients will be inspected by an official CASI representative.
Chili that is served to the public may be made ahead of time and can include fillers such as beans or rice. Competition cups must be turned in promptly at noon.
The Chili Cook Off Judges
There are 3 rounds of judges, all volunteers from the community. Many are chefs or are in the Food & Beverage business. It is a double blind judging. Each cook is given a cup with a numbered ticket inside; the number is also sealed on the outside of the cup, so no one is able to tell whose chili is whose. No names are given. When the winning chili's are announced by number the cook with the matching number presents themselves and their ticket.
The Prizes
Prizes generously donated by local businesses are awarded to the top 10 chili cooks and top three vegetarian chili cooks as well as for large and small group showmanship. One winner is chosen to represent the Texas Society of the Virgin Islands at the national Cook Off in Terlingua, Texas, with airfare, RV rental and entrance fee included. Only the first through third place winners are eligible to attend and they must be local (so the Texas teams that come down can win first place for example but they cannot represent the VI in Terlingua).
All proceeds are donated to local charities. 
For more information about the Texas Society of the Virgin Islands and the Annual Chili Cook Off visit their Facebook Page.