Food trucks have been around for quite a while but it's only in the last few years that they have become all the rage in the foodie world. There are many new twists on food truck offerings moving way beyond the taco, hamburger, and ice-cream varieties of the past decades. Food Network's reality show "The Great Food Truck Race" showcased food trucks competing on who sold the most food, winners moving along to the next episode. The Cooking Channel had the "Food Truck Revolution" that highlighted food trucks across the USA. And in the Virgin Islands food trucks are likewise being given some time in the limelight.
Food trucks in the Virgin Islands have been a good quick meal choice for a long time. Most sell Caribbean inspired dishes like the tried and true pate in meat, salt fish, conch or chicken; Johnny cake and fried chicken; fish with peas and rice; or stewed chicken with mac and cheese. The 2nd most popular trucks sell BBQ. And there are a few here and there with more international offerings like the Roti School Bus in Smith Bay, St. Thomas; and the Greek food truck named Little Olive in Cruz Bay, St. John.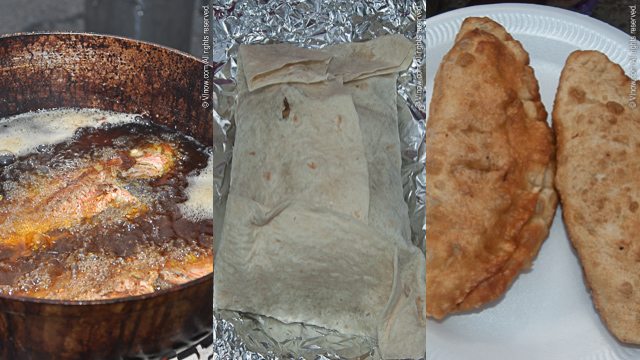 Following along with the country's increased enthusiasm for these meals on wheels; St. Thomas offers its very own display of food trucks with "St. Thomas Eats" a Food Truck Fete. Hosted by the community organization, Downtown Revitalization Inc., it is held on Main Street in Charlotte Amalie. The evening includes good food, tables and chairs set up for dining, plus musical entertainment. Be sure to cast your vote for the food trucks you enjoy, a People's Choice Award is awarded to the best trucks.
The next Food Truck Fete is Friday January 15, 2016 from 4:30pm to 9pm. See the VINOW Events Calendar for more details and for future food events.