St. Thomas' Jazz in the Park is a free concert series that highlights local and visiting musicians and provides a wonderful opportunity for attendees to enjoy the downtown Charlotte Amalie area. The 2016 series kicked off this past Saturday, February 20th, 2016. The event takes place in beautiful Roosevelt Park. Concert goers come early to get a seat at one of the park's benches, or they bring their folding chairs and blankets and find a spot on the grass.
Jazz in the Park is a signature community event organized by International Capital & Management Company. ICMC created this event to help revitalize the business community of Charlotte Amalie by bringing families together around music and culture. The tagline for the event is "Bringing the Community Together through Music", and that it does.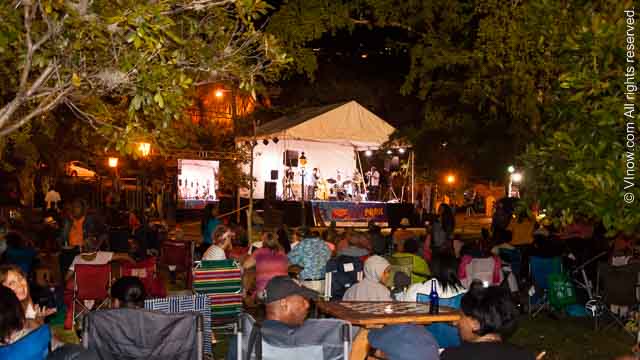 At Saturday's event which started at 4pm and ended at 10pm, there were children sitting with their parents enjoying the sounds, playing on the nearby swings and slides, and gathering closer in awe as a fire dancer performed between bands. Adults swayed to the tunes performed by five different bands at two stages. They also browsed through art displays, and enjoyed drinks and dinner purchased from vendors and food trucks lining the adjacent roads around the park in a street fair, block party layout. It's definitely an event for the whole family. Be sure to mark your calendar and bring your family and friends to the next Jazz in the Park event.
The 2016 Season:
Friday, April 8th from 5:30pm – 10pm
Saturday, July 23rd from 4pm-10pm
Friday, November 4th, from 5:30pm – 10pm