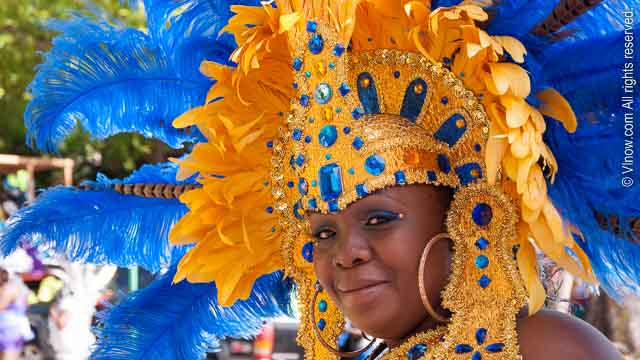 Carnival Magic: The Extravaganza of the Adult's Parade in the Virgin Islands
Beautiful costumes, great music and the wonderful energy and spirit of Virgin Island's people make the adults parade a success every year.
The Parades of St. Thomas, St. John, and St. Croix
Thousands of Virgin Islanders and visitors turn out for the adult's parade. The adult's parade on St. Thomas is often an all day affair that last into the early evening. On St. John the parade usually includes troupes from St. Thomas and takes place in Cruz Bay. The St. John parade is traditionally smaller then the sister islands of St. Thomas and St. Croix. Usually St. Thomas and St. Croix's parades have well over 45 entries and can last 8 hours or more.
The Ever-Present Troupes and their Legendary Themes
Entries vary in theme. Each theme performed by established troupes, some of which have performed in the VI parades for years. Troupes like Party Lovers, Jesters, Gipsy Troupe, Infernos and Intrigue are regulars to the parades. Examples of themes from past adult's parades are 'Legends of the Gods', 'Sweet Fantasia', 'From the Land of Make Believe' and 'Fun-kadelic'.
From Compact to Colossal: The Varied Sizes of Carnival Troupes
Some troupes are small with only a dozen or so participants while others are very large with 100 to 400 people. Huge costumes are worn by members of larger troupes. These large costumes often span the width of the parade route. Traditionally the larger costumed masqueraders will be found in St. Thomas and St. Croix parades.
Year-Long Anticipation: The Extensive Preparations for Carnival
Preparations for Carnival parades begin as soon as one Carnival celebration has finished, so often a year in advance. The costumes worn during the parades are intricate works of art and take months to prepare. Costumes include a whole range of colors and materials. Participants in parade on St. John frequently wear costumes that include lots of red, white and blue as well as traditional yellows, oranges, red, as the St. John Carnival parade usually coincides with the 4th of July!
A Melting Pot of Participants: The Wide Range of Parade Performers
The adult's parade participants are usually adults, however some older children also participate. Politicians, professors, businesses people, doctors, secretaries, even visitors perform in the adult's parade. The parade is a wonderful celebration to see and participate in!