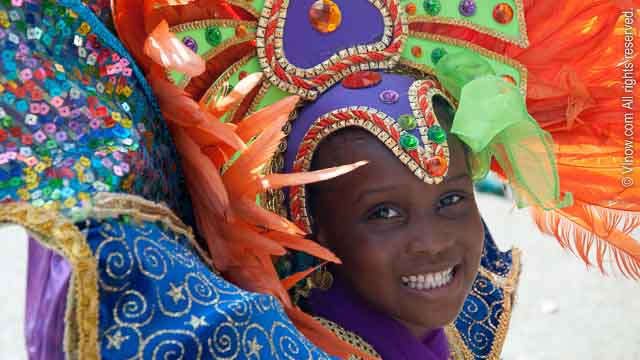 Carnival is for everyone, from small children to adults. The children's parades on St. Thomas and St. Croix offer the youth of the Virgin Islands an opportunity to dazzle. The parade on St. John involves children and adults in one, while the other festivals include a parade for children and another for adults.
Participants in the children's parade range in age from 2 years old and up. The children dance, twirl, jump, march and masquerade through the streets with smiles on their faces. In the past rain showers have briefly fallen during parades. And although the children marching in the parade are often too young to tell you the significance of 'rain can't stop the Carnival' their persistence to perform and undaunted spirit says they understand.
The children's parade usually consists of around 40 entries. Each entry includes music and children dressed in colorful costumes. Parents and friends walk with the children as motivation and support for the young participants. Participants are part of a troupe, and traditionally each troupe has a theme. Themes include mocko jumbies, circus members, candy land, clover fun, Japanese dragons, childhood wishes, Indians, majorettes, cats, dogs, aliens and more.
Steel pan bands are a main ingredient in the parades. Troupes usually march to music provided by steel bands like the Rising Stars Steel Orchestra and the St. Thomas All Star Steel Orchestra as well as school bands. Local music groups like Jam Band and Men at Work sit in trucks and play while moving down the parade route. Troupes dance and perform behind the moving bands.
The children do an excellent job, and the parade is always a wonderful success. Visitors often comment on the energy and overall performance of the children. Making comments like 'that was really amazing, the smallest kids were out there really having a grand time, it was great'.
Steel pan music, children dressed in their fantasies of Disneyland, candy and pokeman, little circus members from lions and monkeys to clowns and acrobats, Japanese outfits and dragons, Indians and majorettes – the performance our young Virgin Islanders give is first class.