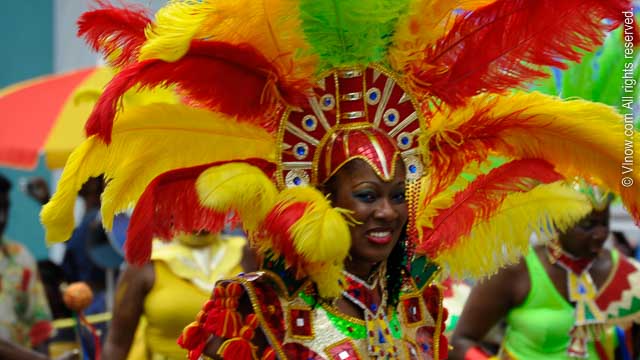 Below you will find the carnival schedule for St. Thomas (April/May), and the festival schedules for St. John (June/July) and St. Croix (December). For the carnival music schedule check: www.vicarnivalschedule.com
St. Thomas Carnival Schedule
VI Carnival in St. Thomas is usually a month-long event that kicks off with a variety of pageants and calypso shows, and then heats up in the last week with partying at the Village, J'ouvert, Food Fair, parades and fireworks.
Carnival in St. Thomas is on with some of the annual favorites like Food Fair, Jouvert, concerts at the Village, and a combined children's and adult's parade. See the schedule below for more details:
St. John Celebration Schedule
St. John Celebration is a month-long event that starts with steel pan performances and pageants and builds up to the week of July 3rd (Emancipation Day) and the 4th (Independence Day). That final week is party time with the big events: village, food Fair and the parade.
Schedule: The St. John Celebration will include the following events jouvert, food fair with local chefs showing how traditional dishes are prepared, a historical dialogue on emancipation, and musical events. See the upcoming schedule below.
St. Croix Crucian Christmas Festival Schedule
St. Croix hosts its Carnival Festival between Christmas and New Year. The Crucian Christmas Carnival sees events in both Christiansted and Frederiksted including calypso shows, Latin music venues, food fairs, horse races, parades, and the village.