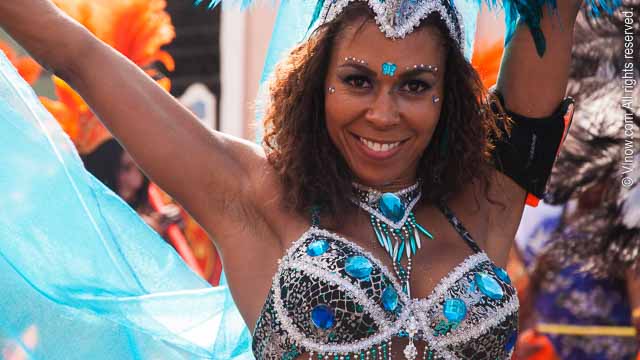 The biggest annual event in the U.S. Virgin Islands is Carnival. On St. Thomas it's called VI Carnival, on St. John it's the St. John Festival and on St. Croix the Crucian Christmas Festival. The celebrations on each island occur at different times of year. Each has unique characteristics but overall they share many similarities.
One such similarity is a Carnival or Festival Theme. Each year almost right after one big fete has ended, comes the announcement that the Carnival and/or Festival committee is seeking submissions for next year's theme. The theme typically includes some reference to the historical, cultural, musical or enjoyment factor of Carnival, and the year.
Take a look at the last 23 years of Carnival and Festival themes below; perhaps think about a good theme for next year's events!
| YEAR | ST. CROIX | ST. THOMAS | ST. JOHN |
| --- | --- | --- | --- |
| 2023 | | Illuminating our Culture for the World to See, St. Thomas Carnival 2023 | It's A Colorful & Cultural Jamboree |
| 2022 | Reflections of Culture Music Mas and Revelry | A New Cultural Roogadoo for Carnival 2022 | Culture and Revelry at Last, Making St. John Celebration 2022 a Blast |
| 2021 | Long Overdue, Crucian Christmas Festival 2021/2022 | 1 Night, 1 Fête | — |
| 2020 | A Crucian Chandelier of Lights (On-line) | All Eyes on We for 2020 (On-line) | St. John Virtual Celebration 2020 (On-line) |
| 2019 | What a Sight to See: Music, Culture and Pageantry | Culture, Fun and Flair! It's a Carnival 2019 Affair! | Sixty Five Years of Mas, Pageanty, and a Cultural Scene. |
| 2018 | Festival Fete Kingdom | Embrace our culture, music, and cuisine for Carnival 2018 | Resilient, Strong and Filled with Love and Esteem for St. John Festival 2018 |
| 2017 |  We Ga' Festival Fever! | A Centennial Commemoration for our 65th Carnival Celebration | The Present and Past in Ways Never Foreseen for St. John Festival 2017 |
| 2016 | Honoring 100 Years of our Centennial Past, Embracing our Present and Future to Last | Nothing is More Fabulous than Carnival in St. Thomas | History and Sights Unseen the St. John Festival 2016 |
| 2015 | Past, Present & Future Scenes, St. Croix Carnival 2015-2016 | Culture to the Extreme, V.I. Carnival 2015 | Come together culturally on the scene for St. John Festival 2015 |
| 2014 | A Majestic Scene for Crucian Christmas Carnival 2014-2015 | The Biggest Fete Ever Seen, Carnival 2014 | A Grande Diamond Jubilee for St. John Festival 2014 Anniversary |
| 2013 | All Ah We Are Carnival: 2013-2014 | A Tropical Scene for Carnival 2013 | Come & Explore the Cultural Scene for Festival 2013 |
| 2012 | Live the Dream, Music, Mas & History Cruician Christmas Festival 60th Anniversary | A Celebration for the World to See, St. Thomas Carnival's 60th Anniversary | Play Mas, Jump Up and Enjoy Yourselves for Festival 2012 |
| 2011 | Celebrate the Crucian Carnival Flavor for Festival 2011-2012 | Let Our Cultural Spirit Enliven Carnival 2011 | An Astronomical and Cultural Splendor in Heaven for Festival 2011 |
| 2010 | Play Mas, 1st Class! | Bacchanal Again for 2010 | Enjoy our Cultural & Musical Trend for Festival 2010 |
| 2009 | See, Believe, Xperience It 2009-2010 Festival | Echoes Through Time for Carnival 2009 | Come Jingle and Unwind for Festival 2009 |
| 2008 | Showcasing Cultural Ties that Bind, Crucian Christmas Festival 2008-2009 | A Cultural Escape for Carnival 2008 | Jump Up & Congregate for Festival 2008 |
| 2007 | Culture, History and Tradition remain on the slate for Festival 2007-2008 | 55 Years of Culture, Mas & Rhythm for Carnival 2007 | A Cultural Blend for Festival 2007 |
| 2006 | Celebrating our Heritage with A Cultural Blend for Festival 2006-2007 | Glamour and Glitz for Carnival 2006 | Mas, Music & Cultural Mix for Festival 2006 |
| 2005 | A Global Mix of Cultures, Sounds and Lyrics for Festival 2005-2006 | Carnival is Alive in 2005 | Cultural and Music Will Strive for Festival 2005 |
| 2004 | Sashay to the Rhythm of Our Cultural Vibes, for Festival 2004-2005 | Journey through a Cultural Door for Carnival 2004 | A Golden Extravaganza Galore for Festival 2004 |
| 2003 | Glitz, Glamour, Music & More, Celebrating Festival 2003-2004 | Music, Mas and Pageantry for Carnival 2003 | Fun, Splendor & Harmony for Festival 2003 |
| 2002 | A Golden Spree For the World to See, It's Crucian Festival 2002-2003 | A Cultural Roogoodoo for Carnival 2002 | A Salute to America with a Cultural Stroomoo for Festival 2002 |
| 2001 | A Little Bit of Old – and All That's New for Crucian Festival 2001-2002 | A Fantasia of Fun for Carnival 2001 | Heritage, Culture and Fun for Festival 2001 |
| 2000 | Memories of Our Cultural Past, A Solid Foundation for Our Future | Jump and Sway, It's Carnival for Y2K | Dawn of a New Day for Festival Y2K |