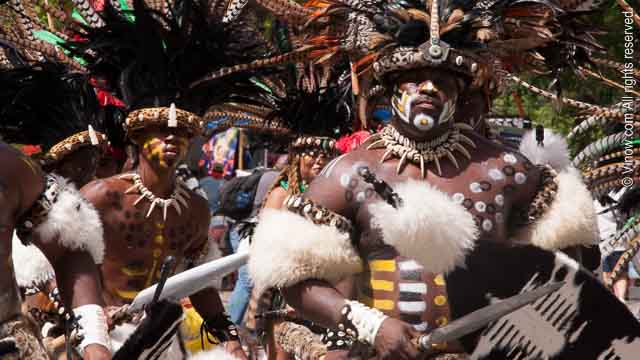 The big finale of each Carnival celebration in the U.S. Virgin Islands is a parade, or two! St. John has one parade, while both St. Thomas and St. Croix have a children's parade and a separate adult's parade. The parades include hundreds of people dancing, marching, jumping up and just having a great time, all in planned entries. Group entries are called troupes and if a float is included then it is called a floupe.
In the children's parades many troupes are arranged by schools. Adult troupes are often organizations all of their own, though some are affiliated with resorts or the local university for examples. Participating in a troupe is a lot of fun, and it is also a lot of work. Troupes typically have a board of directors and they are in charge of membership, fundraising, seeking sponsors, planning a theme, designing costumes, having costumes built, fitting members with costumes, designing dance routines, selecting recorded music or getting a band to lead the troupe, song choices, designing and building a float and practices! Troupes that are affiliated with schools and businesses also have a similar work load for planning their parade entries. Troupe members are not off the hook; they have to help with the planning and fundraising, and must attend meetings and practices.
The process is annual as troupes perform each year with a new theme and new costumes. The planning starts just after the current year's Carnival ends, and getting ready is a yearlong process. A troupe's entry centers around a theme, and themes might be cultural, fantasy, environmental, a blast from the past, futuristic or characters from stories and movies – just to name a few. There are some troupes that for the most part do not change themes and costume styles each year; these are traditional troupes like the Mocko Jumbies and Indians.
The theme selected for a troupe is brought to life through the costumes. Take for example the University of the Virgin Islands 2008 marine theme, creating an aquatic escape around a coral reef. The troupe's female members wore costumes representing turtles, coral reef and mermaids. The males wore costumes depicting sting rays and seahorses. Their 2009 theme was 'A Splash of Alternative Energy'. Male and female troupe members wore costumes representing water and earth. Two other costumes representing wind and the sun were worn only by female members. Sometimes the theme selected is influenced by a troupe's sponsors. For example in 2007 the Infernos troupe with Paradise Point and Cruzan Rum as their primary sponsors, chose the theme 'Cheers, Cocktailing in Paradise'. Members wore costumes that represented various cocktails. For 2009 their theme was 'African Splendor' and costumes included Sacred Gems, Tribal Chic and Nubian Royalty.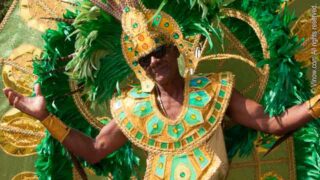 Costumes involve a whole lot of creativity and there is no shortage of all things bright, colorful, glittery, shiny, beaded, and usually with feathers too! Headpieces and ornamentation on the wrists, arms, knees and neck are usually staples of the costumes, and sometimes body paint. Masqueraders might hold decorated sticks or other items that complement the costumes. Troupe members are responsible for paying for their own costume, and they run around $200-$250 each. In cases where it is a school's troupe, costumes might be discounted for students and faculty. Costumes don't typically include the shoes, but you can't wear any old shoes. The shoes need to match the costume and they are often also decorated with glitter and other ornamentation!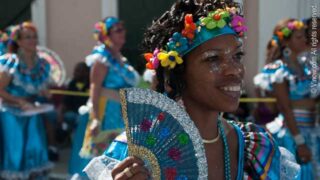 If you have attended a parade in the U.S. Virgin Islands you must have noticed some troupe members wearing really large costumes, these are usually the king and/or queen of the band. This masquerader's costume is usually much larger than the regular members, sometimes spanning the entire width of the parade route. The costumes are usually made of wire frames covered with fabric, feathers and other materials. The masquerader must be able to wear the costume and move down the street while dancing and it must stay together while the person dances for hours! Often these large costumes have frames with wheels attached to help the wearer support the weight and carry the costume while moving along the parade route.
Whether the costume is large or small, the troupe has a cultural theme or underwater theme, whether it's children or adults — the Carnival parades in the U.S. Virgin Islands dazzle parade watchers. Months of preparation go into each troupes' parade entry and the result is an awesome display of beauty, creativity and energy!