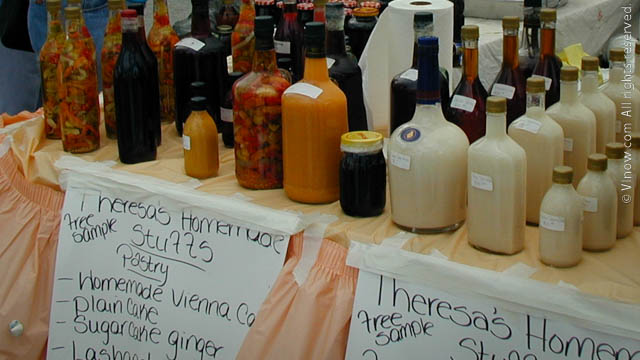 Food and drinks are an important part of Virgin Island's culture. Every festival, party, graduation, birth, wedding or holiday celebration must have food! Local foods in the Virgin Islands include an assortment of Caribbean dishes. It is common to find American dishes, restaurants with various cuisines and fast food restaurants in the Virgin Islands.
Drinks
Rum, rum and more rum! Throughout the Caribbean, every major island has its own varieties of rum. Rum is distilled directly from sugar cane or molasses. As such rum was originally manufactured along side sugar on sugar plantations in the Caribbean. Today the Virgin Islands are well known for Cruzan Rum, manufactured on St. Croix.
There are a number of popular health and fruit drinks common to the Virgin Islands and the Caribbean. Seamoss is a popular drink made of seaweed that is boiled until it dissolves and then mixed with milk and spices. Mauby is made by boiling mauby bark with spices including cinnamon and is a local favorite. Other favorites include; passionfruit juice, pumpkin punch, sorrel, soursop punch, banana punch, coconut water, peanut punch, bush tea and lemon tea among others.
Caribbean Food
The foods common to the Virgin Islands today and to the Caribbean are a result of interactions between the indigenous Indians and Europeans during the early years of exploration in the Caribbean region, Europeans and Africans during years of colonization and through interactions between immigrants from neighboring islands and Americans in more recent times.
The first known inhabitants of the Caribbean region were Indians and from them European settlers gained knowledge of local fruits and vegetables. The Indians raised ground provisions like cassava and knew how to make bread from it. While most of the indigenous Indian cuisine has not survived, their influence is still apparent. One of the enduring cooking methods the Indians used was barbecue!
In the early days of colonization in the Caribbean two groups with vastly different cooking styles and ingredients lived together; Europeans and Africans. The Europeans brought recipes and food products like beef, onions, garlic and wheat that were unknown to the region. They also brought many food items that are today synonymous with the islands such as breadfruits, limes, mangos and sugar cane. With the importation of African slaves came new crops like okra and new cooking styles. From the Americas came beans, corn, potatoes and varying types of peppers.
When slavery was abolished many laborers abandoned the fields leaving a need for workers. European nations adopted a system of indentured servants which were often from China and India; the new groups brought more cooking styles to the Caribbean. One dramatic and lasting result of Indian migration to the Caribbean is a spice mixture called curry. Curry dishes have become popular in Caribbean cuisine.
Caribbean cooking has many dishes. The best cooks are often the older women in the community. Asking for a recipe is often pointless as they do not cook with recipes but rather with memory and taste; they add a little of this and a little that and create masterpieces. Fish soup is popular and on some islands it is eaten for breakfast, lunch and/or dinner! Callaloo soup is another popular dish; it is made of leaves from a daheen plant mixed with okra, local herbs and often various meats or seafoods. Stewed oxtail, beef, goat and chicken are all popular. Saltfish is favorite as a dish or in pates. Side dishes include rice and peas, yams, fried plantains, dasheen, sweet potato, cassava, beans and lentils. Below you will find a few recipes for island favorites!
Virgin Islands Recipes
Meat Pate
Fungi
Sorrel
Meat Pate
Directions
Step I. Pastry
4 cups flour
4 level tablespoons unsalted vegetable shortening
1/2 teaspoon salt
1/4 teaspoon baking powder
1 cup water
Mix dry ingredients in large bowl. Cut in shortening with knives or pastry blender. Add water gradually to form a soft dough. Knead gently on a floured board for a few minutes. Cover and let rest for about 10 minutes. Shape into small balls, roll out and cut into size circles desired for turnovers.
Step II. Filling
1/2 lb. lean ground pork AND 1/2 lb. ground beef OR 1 lb. ground beef (omitting pork)
1 large sweet pepper
1 medium onion
1 tablespoon minced celery
1 tablespoon minced parsley
2 tablespoons margarine
1 clove garlic, crushed
Hot pepper to taste (optional)
1/4 cut tomato paste
1/4 teaspoon Oregano
1 tablespoon fine bread crumbs
Sauté pork in margarine until brown, usually about 10 minutes, add beef and continue cooking another 5 minutes. Add remaining ingredients. Cook for a few minutes longer (make sure beef is cooked, no longer pink) If filling seems very dry add a little water.
Step III. Prepare and Cook
Place filling on each circle of dough, leaving edge bare, moisten edge with water, turn over and seal meat inside dough by pressing moist edge together with fork. Fry in hot deep fat, until dough in golden brown.
Fungi
Ingredients
2 1/2 cups boiling water
1 1/2 cups cornmeal
1 teaspoon salt
1 tablespoon shortening
Directions
To rapidly boiling water add salt and sprinkle cornmeal in slowly, stirring the mixture. Allow water to boil with cornmeal a few minutes. Stir briskly to prevent lumping. When well combined add shortening. Cover and allow to steam for about 5 minutes, stirring occasionally. Okras may be added. Cut the okra into small pieces and allow to boil for a few minutes before adding to the cornmeal. Suggestion: It is difficult to cook a fungi that is lump free. To prevent lumps and get a smooth fungi – mix 1/4 cup of cornmeal with 3/4 water. Add to boiling water, stirring constantly while adding. Let this cook to consistency of a thick cereal, add remaining cornmeal and stir, mashing lumps as you stir.
Sorrel
Ingredients
1oz. dried sorrel
3 slices of fresh ginger (1 inch thick)
1 tablespoon cloves
1 piece dried orange peel
sugar – 10 cups boiling water
A few grains of rice
Optional Ingredient – 1/4 cup white or dark rum
Directions
Put water and ginger slices in a large saucepan. Cover and boil well for 3 minutes. Place sorrel, cloves and orange peel in a jar with boiling ginger-water mixture. Allow mixture to sit for 24 hours. Strain the mixture and sweeten to taste (Sorrel is quite tart, so a couple cups of sugar may be necessary.) Add rum. Pour liquid into glass bottle adding a few grains of rice to each bottle. The grains of rice are said to help quicken fermentation. Leave bottles of sorrel un-chilled for a minimum of 24 hours before serving.